Alex Odgers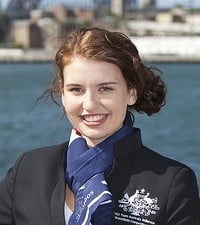 "WorldSkills has made me a lot more organised and it's also made me grow up and take my future into my own hands. Professionally it's made me a better beauty therapist and has made me look at the finer details of my practice."
Alex completed Year 10 work experience at a beauty salon, impressed the staff and soon after was offered an apprenticeship by the owner. According to Alex, the opportunity was too good to pass up!
Alex recommends participating in WorldSkills Competitions to others who are striving to become leaders in their industry. Alex believes "it is such an opportunity to grow and develop your skills and also to meet great people, travel and make friends for life!"
In her job, Alex receives satisfaction in her work from knowing she's helped improve a person's mood and wellbeing, "it's such a good feeling when you have finished a treatment with a client and they're extremely relaxed and rejuvenated."
In the short term, Alex hopes to combine two passions- travel and work. She would really like to "island hop and work in the most beautiful beauty salons in the world." In the long term Alex would like to open a beauty salon where she can offer her clients the most relaxing experience possible as well as teach and mentor aspiring beauty therapists.
Favourite motto?
Just breathe!
In one word describe how you feel about representing Australia in London?
Privileged.
Expert
Sue

Collins

Sue is Director, Principal and teacher at Cairns Beauty Academy. She has been a Judge on all regional, national and international levels since the Beauty Category%27s inception in 1999. She is Deputy Expert for the Beauty Therapy International category. Sue believes the experience of not just winning but competing in the International Competition is invaluable for the Skillaroos. Sue trained the 2009 International Gold Medalist, Jessie-Lee Gladwell. Her goal is to provide Alex the best possible chance for success.