Lachlan Thomas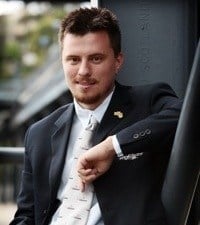 Lachlan represents the Brisbane region, Queensland. He works at Dawson's Technical Services in Amberley and trained at SkillsTech Australia. The Refrigeration expert was John Kuilart from Teco Australia.
Lachlan's curiosity got the better of him when he jumped in his roof to watch the workers install his air conditioner. When he offered to lend a hand he realised that a job in refrigeration was for him and went to the same company to apply for work experience and eventually an apprenticeship.
Lachlan's National 2006 gold medal in refrigeration won him a trip to the 2006 IKK Trade Fair in Germany, as well as a place in the WorldSkills International Team. He says that his career choice in a trade has provided him a number of opportunities and skills to build on and that it feels good to have a qualification to his name.
Lachlan enjoys going to work every day because of the variety in his tasks. Whether it is an air conditioner, air compressor or a chiller worth $300,000, Lachlan appreciates applying his skills to various projects.
His training with John and work experience with Dawson's Technical Services earned him a Medallion of Excellence in the 2007 WorldSkills International Competition in Shizuoka, Japan.

Where is Lachlan now?
Lachlan has been busy in the last 12 months. He has changed jobs and is now in pursuit of his electrical trade. Since competing in Japan he said "I have realised no one can tell you what you can and can't do; your future is what you make of it."
Lachlan's advice to the competitors of Team Australia, Calgary
"Fasten your seat belts, and enjoy the ride. Give it 110%."