2017 Skillaroo Emilia Montague visits Vietnam for Taste of Australia
Earlier in April 2018, the Australian tourism, food and beverage and vocational education and training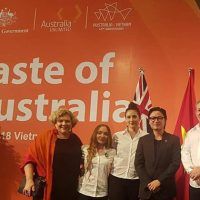 (VET) sectors were the highlight of Vietnam with the third annual 2018 Taste of Australia summit being hosted by Australia Unlimited across Central Vietnam, Hanoi and Ho Chi Minh City.
2017 Skillaroo and Medallion of Excellence winner Emilia Montague, along with three other members of the Australian VET Alumni, took part in the festivities. For seven days, Emilia and the other VET Alumni participated in hands on training, workshops, cocktail making, giving the locals a taste of what it is like to pursue a career using VET pathways as a way to success.
A highlight for the Alumni was meeting the Assistant Minister for Trade, Tourism and Investment, the Hon. Mark Coulton MP and internationally renowned chef, Mr Luke Nguyen, who is the summit's key ambassador.
The Alumni joined Assistant Minister Coulton and Mr Nguyen as official delegates for a number of activities to showcase the best of Australian food and beverages, education and training and culinary culture to Vietnamese business and consumers.
Another highlight for the trio was a visit to KOTO hospitality school for the disadvantaged in Hanoi, where the motto is 'Know One Teach One'. The trio were asked to demonstrate some of the skills they had learned as part of their training and experience in the industry.
Emilia's journey to Vietnam has taken her from Brisbane, to Sydney, China and to Abu Dhabi where she competed against the world's best in Restaurant Service at the 44th WorldSkills International competition.
Thanks to our Platinum Partner Didasko Learning Resources, upcoming hospitality leaders such as Emilia have been able to experience their full potential in an industry that is truly international.
For more information about the Taste of Australia Summit, visit the website at http://tasteofaustralia.com.vn/
For more information about Didasko Learning Resources, visit the website at http://www.didasko.com/