Our partnership with Learning Vault

Learning Vault has been a longtime supporter of WorldSkills Australia and has witnessed first hand the incredible opportunities and successes within WorldSkills.
As Australia's premier digital badging agency, Learning Vault identified a need to acknowledge these milestones digitally. Joining forces, the WorldSkills Australia Badging Program was launched.
Our mission is that all WorldSkills milestones; from a gold medal to a longtime service award, will be permanently etched into the digital world to share and celebrate.
What are digital badges?
Digital badges are a virtual acknowledgment of an earned credential, demonstrated skill or professional achievement. We can use digital badging to celebrate the milestones of every WorldSkills member from competitor to president.
Every WorldSkills badge earner has a portfolio (known as a 'skillpack') of evidence with each awarded badge, backed by machine-readable metadata.
Individually the badges offer recognition and celebration, collectively they create a database of milestones.
How do digital badges work?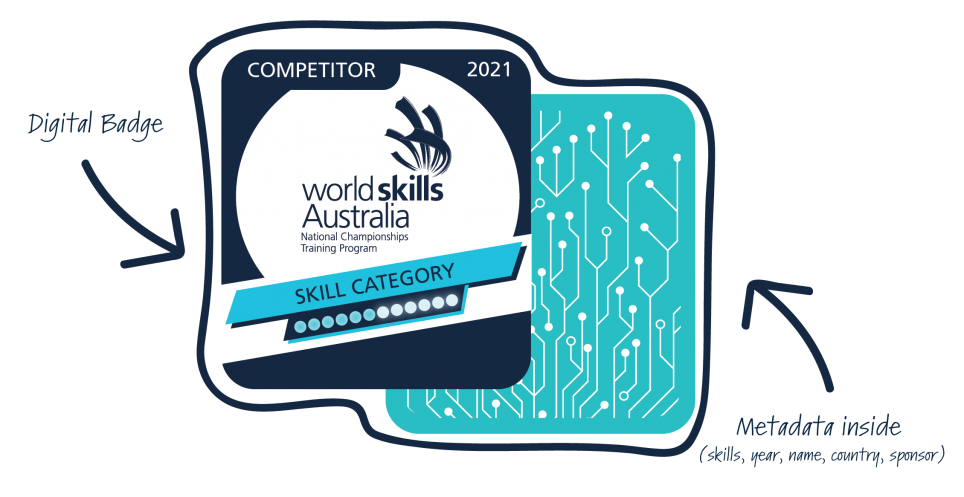 Digital badges are portable, sharable and most importantly, verifiable. For competitors, judges and volunteers, these badges are easy to share on professional profiles like LinkedIn or display proudly on social media and can be hyper-linked in resumes.
For WorldSkills, the benefits are very rich in brand exposure and provide a way to recognise skills excellence in the digital world. The badges direct future students, volunteers and donors to your call to action.
For future employers, these digital badges provide a verifiable source of truth for a prospective employee's achievement.
What do the digital badges look like?
Our badging design program, creates bespoke badges tailored to your needs. This set of digital badges was created to celebrate the achievements of all those involved in the WorldSkills Australia National Training Program. WorldSkills Australia wanted a badge that showcased the progression of training; with a badge issued at the 6-month and 12-month milestones. The WorldSkills Australia sponsorship program needed to be incorporated to offer further rights and benefits to sponsors. WorldSkills Australia is planning to introduce badges for the Regional, National and International program to recognise the achievements of their members and supporters.
What is a digital footprint?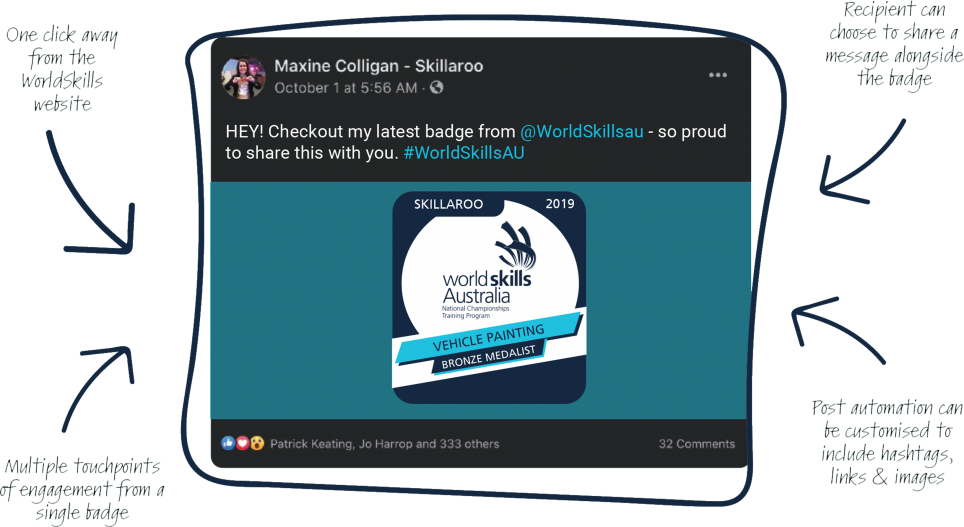 Every credential holds within it data that relates to the achievement – or activity – of the recipient.
Being able to verify in real-time, through international servers, what a badge holder has achieved, when and by which organisation.
Every achievement is an opportunity for viral growth, as badges can be shared through social media by the recipient.
Badges help you ensure that more verifiable and correct achievements are shared and promoted.
Behind the badge
Behind the badge, is the 'Skill Pack' digital platform. The 'Skill Pack' is accessible to everyone in one click and provides a comprehensive dashboard of the issuing information and earning criteria. This platform provides evidence of the recipients professional and personal development throughout their WorldSkills journey. Unique badge URL