Australian Apprenticeships and Traineeships Information Service partners with WorldSkills
The Australian Apprenticeships and Traineeships Information Service (AATIS) is proud to partner with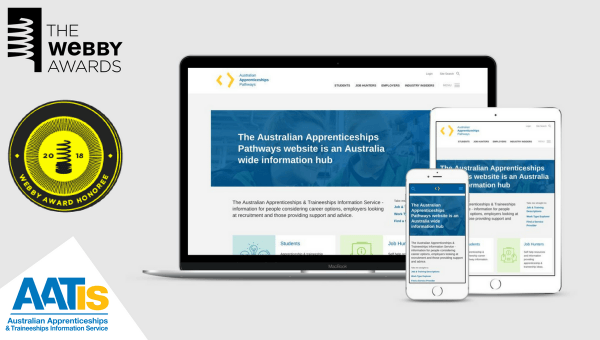 WorldSkills Australia, supporting and promoting vocational education and training, and highlighting the importance of informed career decisions.
AATIS provides information and resources on apprenticeships and traineeships across Australia, with the popular AAPathways website being the online home of information and support for students, job hunters, employers, and support services.
AAPathways was relaunched in August last year, receiving overwhelmingly positive feedback on the usability and content, and has been entered in a range of national and international awards.
AATIS is proud to announce that the AAPathways website, built by Get Started, has been named an Official Honouree in the 2018 Webby awards.
The Webby awards is a prestigious international award, honouring excellence on the internet. AAPathways was entered into the education website category and was placed in the top 18% of over 13,000 entries from across the globe.
This achievement solidifies the determination AATIS has to provide the most up-to-date, accurate apprenticeships and traineeships information in a user friendly format.
To learn more about the resources available through AAPathways, visit www.aapathways.com.au or contact AATIS at contact@aatis.com.au.