Australia's best young Refrigeration Technicians prepare for Gold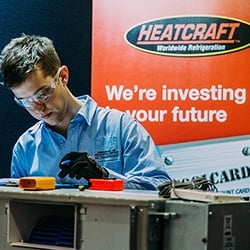 WorldSkills Australia is pleased to announce that ARBS will proudly collocate the Refrigeration Championship as an independent skill category from Australia's most prestigious skills and trade event, the WorldSkills Australia National Championships 2018.
2018 marks the 8th year that ARBS have hosted the Refrigeration Championship. Young refrigeration technicians will travel from all corners of Australia to participate in three days of intensive competition vying for gold, silver and bronze medals and the chance to represent their country at the 45th WorldSkills Competition in Kazan, Russia in August 2019.
Partnering with Heatcraft Australia and New Zealand, competitors will have just 18 hours to demonstrate that they have the best skills and knowledge of refrigeration and air conditioning in the country.
Find out more at www.skillsshow.org.au 
#ausskillsshow #heatcraft #realskillsforrealcareers