Fine Food Australia – WorldSkills Competitions in Butchery and Cookery
Fine Food Australia is the leading trade exhibition for the food industry. The event showcases the latest products and attracts buyers from restaurants, cafes, bakeries, retailers, caterers, bars, hotels and other food businesses. In partnership with Diversified Communications and the Australian Culinary Federation, three regional WorldSkills competitions were held at the trade show on the 13 and 14 September. The event offered great industry exposure for WorldSkills Australia while giving competitors an opportunity to compete at the National Championships venue.
Butchery       
The Butchery competition, featuring 12 competitors from the Sydney West Region, was designed to cover all facets and skills required for the modern butcher. The intense competition ran for 6 hours, and proved to be very popular with the audience. Special thanks to Ben Barrow and his great team of judges for their commitment to the success of this regional competition.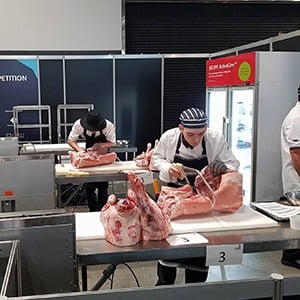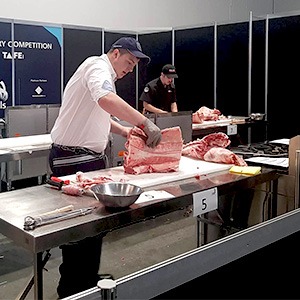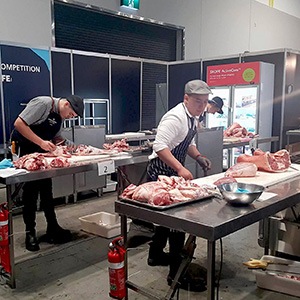 Cookery
Competitors from the Brisbane Region and The Star Group showcased their skills to over 20,000 thousand attendees at Fine Food Australia. The skilled competitors were required to prepare a main course and dessert within a five-hour time limit marked on criteria including skill, technique, work organisation, presentation and tasting with an extremely high standard of work produced over the two days. Special thank you to Martin MacInnes and Renee Hardwick from Brisbane region, Bernice Colcomb from The Star, Ianthe Smith, Deb Whitebread and the judging team for their commitment to the successful running of these two regional competitions.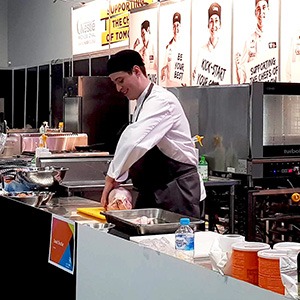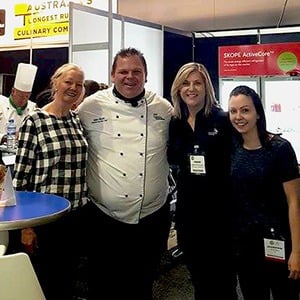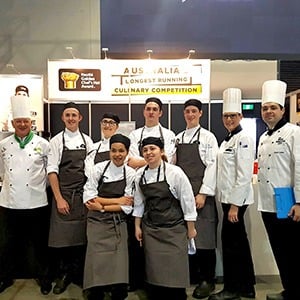 Fine Food Australia Event Director, Minnie Constan said: "The 2017 show was an incredible success, with a level of attendance and support from Sydney that we haven't seen in years. We strive to set the benchmark for the industry; supporting learning and growth by forming new partnerships, like we have with WorldSkills. Innovation, inspiration and the opportunity to do business set the theme this year and preliminary results prove that we have absolutely achieved just that."
Bernice Colcomb, Chef de Cuisine, The Star Culinary Institute said: "The event was an excellent opportunity for the apprentices to test their skills against their peers and reach their full potential.
"Events and competitions like this are crucial to the development of our next generation of young chefs; improving their confidence, developing their skills while offering  great industry exposure."