Life Member Pin Recipients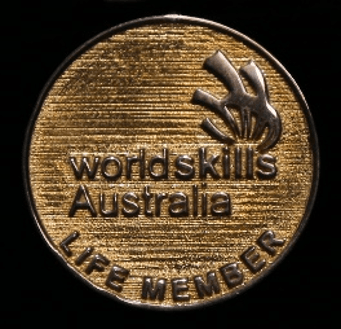 The Life Member Pin recognises the outstanding contribution to WorldSkills Australia of an individual, both in terms of continuous service and importantly, the positive and sustainable impact a person has had on the entire WorldSkills Australia community.
The recipients demonstrate a commitment to WorldSkills Australia that ensures that the future of WorldSkills Australia is bright and prosperous.
The life member pin was designed and produced by Darren May of Pallion. The media is made from Argentium, a speciality metal only available through Pallion. Each pin is numbered and reflects the order in which the pin is awarded.
The Life Member Pin Recipients:
1.Tjerk Dusseldorp
2. Bob Puffet
3. Alan Grasset
4. Steve Hornery
5. Dave Arnold
6. Noel Munkman
7. John Shiel
8. Hilton Jones
9. Ivan Campbell
10. Devon Flor
11. Maryka Gibson
12. Ruth Browne
13. Kerrie Stevens
14. Brian Johnson
15. Trevor Schwenke
16. Tony Wright
17. John Anderson
18. Kay Sharpe
19. Geoff Ball
20. Barbara Hawkins
21. Jane Stokie
22. Jody Ridgeway
23. Jeanette Allen
24. Rachel Sullivan
25. Ron Simeon
26.Paul Condran
27. Warwick Johnson
28. John Sharples
29. Ivan Novak
30. Grant Stewart
31. Brigitte Collins