Where are they now? Florist Dayne Robinson
Participating in the Worldskills competitions has definitely paid off for florist and business owner Dayne Robinson. After competing at her regionals in 2011 and winning gold, Dayne went on to be a Skillaroo for the 2013 WorldSkills Competition in Leipzig. From her international experience, Dayne has gone on to start her own wedding and events business, Dayne Tyler Floriart.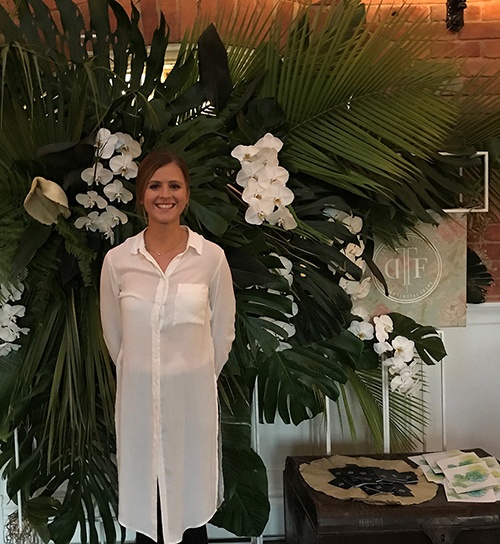 Throughout her time at school Dayne never considered floristry as a career, in fact the whole way through she wanted to be a dentist. After applying for and accepting an after school job at a florist near her high school she fell in love with the industry immediately.
Within a year Dayne had started looking at traineeship/apprenticeship options to pursue her new dream career. She found an apprenticeship with a local florist and started studying at Box Hill Institute. During her apprenticeship Dayne asked as many questions as possible, pushed the limits with everything she created, and made the most of her time in the classroom and workplace.
Dayne credits her success to her mentors, Natalie Raffaele and Euan MacKenzie, teachers from the Box Hill Institute of TAFE. "I had the most amazing teacher at Box Hill like Natalie, who really believed in me and constantly pushed me to grow and work on my skills. Natalie was the one who introduced me to the idea of competing in the WorldSkills regionals. I had never heard of WorldSkills at the time, but I am so thankful she pushed me into competing," says Dayne.
In 2011 Dayne competed in the WorldSkills regionals, taking home first place. She was then selected to be part of the Victorian team.  Dayne credits Box Hill Institute for their support in the extra training they provided giving her confidence at the nationals and her employer at the time Geoff from The Donvale Flower Gallery for his support throughout the entire training and competition period.
Following lots of hard work and training, Dayne won the gold medal at the 2012 Nationals , and was accepted as a Skillaroo in Team Australia. Dayne competed in the WorldSkills International competition in Leipzig in 2013 and had the most amazing experience.
"When I returned home, and people asked me 'how it was?', even to this day, I just laugh with a slight smirk, because there are no words to describe the feeling of representing your country in an industry that you adore," says Dayne.
After finishing her apprenticeship in July 2011, and loving every moment of it, Dayne started making plans to start her own business. In 2016 she started her own wedding and events business, Dayne Tyler Floriart. She has now extended this and started a second business, delivering posies and terrariums around the Eastern Suburbs of Melbourne, as  well as teaching floristry classes for Bloom College.
"As cliche as it sounds, you really become part of the 'WorldSkills family', you have a constant feeling of support and encouragement. I have made so many lifelong friendships. This is why I now volunteer my time to be a team leader for Team Victoria, I want to help and support others through their WorldSkills journey. I can't possibly describe my WorldSkills experience in three words, but if I had to describe it to someone in a short sentence, it would be – 'A once in a lifetime journey'."