#SkillsChangeLives – Signwriting Apprentice – Chrissy Gensch
Creative, engaging and hard-working, 3rd year signwriting apprentice Chrissy Gensch is working towards taking on ever bigger and better jobs that challenge her to think outside the box.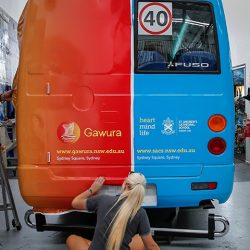 "Being an artist, my mum encouraged me to do what I wanted to do – she said it is more important to be happy and love what you do," she explains.
Chrissy first tried out signwriting in year 10 at school when an opportunity to undertake work experience came up. "I contacted Bear Designs where I still work now as they were local to me – and they said 'yes'! I enjoyed that week of work so much I knew I wanted to do signwriting. Two years down the track I was ready for a fulltime job, I contacted them, and they gave me the job straight away!"
Although still a male dominated trade, Chrissy is navigating the landscape with grace, "I often have customers come into the factory and ask me if I am the graphic designer or the receptionist because they assume I don't do any of the hands-on stuff. When I tell them I do the same jobs as the boys they always look so shocked, almost lost for words!
Whenever people make these assumptions it always feels good to have them come back to pick up their vehicle and see me finishing it off and doing a great job on it. Hopefully, I'm helping to change people's perspective & expectations of girls in trades," she says.
A photographer in her spare time, Chrissy's love of all things visual will steer her well in the Signage Competition she'll be competing in as part of Skills Show Australia 2018, from 2 – 4 June at the ICC in Sydney.
For Chrissy, the variety that comes with signwriting keeps her excited for what her future career will hold, "I love that one day I'll be wrapping a car, the next I'll be painting 3D letters. I'll spend days in the office on the computer, then I'll spend days in the heat in the factory in the heat. Some days I'll be out on the road, going job to job, or up in a scissor life installing a massive banner.
We work on everything from racecars, trucks and helicopters, to huge banners, we wrap all sorts of things! When we do jobs for large important clients it can be exciting seeing behind the scenes such as being in television studios and footy locker rooms," she says.
While Chrissy hasn't come across many female sign writers, she is starting to more women in her circle coming into the trade, "One of my workmates has a female friend who is an amazing signwriter and I also have a good friend who I met through my TAFE training (TAFE NSW, Ultimo). It is more of a men's trade, but hopefully more girls start making their way into it!" she exclaims.
To see these changes, Chrissy says the chance for equality is key, "It would be great to see more women doing men's trades and showing that we are strong, and we can work just as hard even if it is not a traditional job for us to be doing.
I think girls bring a different aspect into trades. Women need to change everyone's perspectives, especially older generations, on we can and can't do, and show our potential."
In preparation for the Skills Show in June, Chrissy is keeping her eye on the prize and her attention on the small details, "I would love to be crowned the champion in the Signage category, it would be amazing to be recognised for the work I do every day. I'd like to be pushed to do my best under pressure. I hope to gain confidence in what I do."
WorldSkills Australia is recognising skilled women around the globe in celebration of International Women's Day, 8 March. Join us in supporting HeForShe – a solidarity movement for gender equality, led by the United Nations.