What it means to be a WorldSkills parent
While our talented competitors are always at the face of everything we do here at WorldSkills Australia, the fact is that there are plenty of people behind the scenes who keep the WorldSkills machine moving. From parents to volunteers, judges to employers – there are so many people who make our competitors' WorldSkills dreams possible.
This year, we want to shine a light on some of those people, and celebrate all they do for our competitors and our organisation. In part one of our ongoing series, we speak to Fiona Larkings, mother of Clinton Larkings, who represented Australia in Industrial Mechanics Milwright at the 2019 WorldSkills International Competition.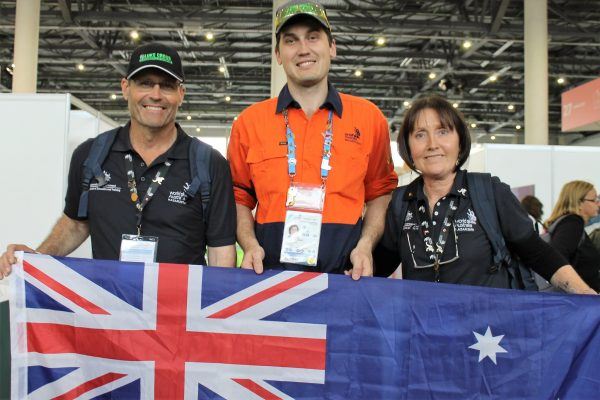 For Fiona Larkings, there was never really any question that her son Clinton would end up working with his hands. He was the type of kid who showed an affinity for anything mechanical at an early age – so much so that at school, he became the go-to person for anyone who needed something fixed.
After finishing Year 12 with impressive marks, Clinton's love for mechanics and engineering saw him take on an apprenticeship in Dubbo, rather than following his friends to uni.That choice, Fiona says, was one that was difficult for Clinton. In turning down an offer to study mechanical engineering at uni in favour of an apprenticeship, her son missed out on the uni experience, while also having to deal with people who had misconceptions about TAFE.
While a difficult choice, it was one that ended up paying off for Clinton, who won Silver in Industrial Mechanic Milwright at the 2019 WorldSkills International Competition in Kazan, Russia.
Training for Internationals wasn't exactly a picnic, especially for someone whose mother describes him as "a bit of a perfectionist", and who went into the competition aiming to be the best. Clinton's training saw him rack up plenty of long hours, new and improved skills, and more than a few blisters.
For his proud parents – who jumped at the rare opportunity to travel overseas to support their son – seeing Clinton compete and succeed on an international stage was a thrilling moment, and one that validated Clinton's decision to pursue an apprenticeship rather than attend university.
"There's no way he would have achieved what he did with WorldSkills at uni," says Fiona.