Team Australia Excel at International Skills Competition in Abu Dhabi
The outstanding performances of the 2017 'Skillaroos' and their experts at the 44th WorldSkills International competition in Abu Dhabi has propelled WorldSkills Australia into the top 10 skill nations in the world.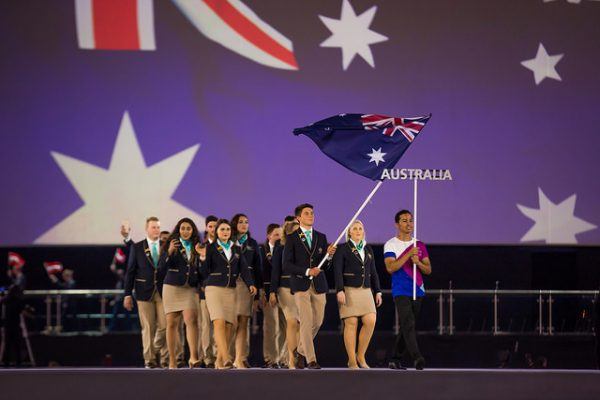 The jump from 12th at the 2015 São Paulo competition to 10th in this year's International competition has ensured that Australia is continuing to build its reputation for skills and trades on the international stage, cementing the continued importance of VET for the nation's future prosperity.
This outstanding result has been achieved through the majority of the 17 competing 'Skillaroos' scoring in the top 10 in their individual skill category. The result has been enhanced by four members of the 'Skillaroos' finishing on the medal dais at the competition that concluded in Abu Dhabi on Thursday, claiming two silver and two bronze medals while many more received Medals of Excellence for their individual performances.
WorldSkills Australia selected a team of 43 Australian trades people and their mentors in July to represent their country at the international competition that comprised 3000 participants including competitors, experts and officials, from 77 countries competing in 51 skills.
South Australian carpenter Ryan Grieger and industrial millwright Brad Ingham from New South Wales have both won silver medals in their respective categories, while beauty therapist Lily Campbell from New South Wales and Victorian bricklayer Trystan Sammut, claimed bronze medals for their performances over the 4-day competition.
Hairdresser Gaby Ware from New South Wales has won Best in Nation, scoring the highest overall individual result across the whole Australian team.
WorldSkills Australia Chief Executive Officer Brett Judd said that the individual performances of every team member were commendable which ultimately contributed to an outstanding and extremely pleasing overall team result.
"We saw amazing performances from our Australian team with 14 of the 17 finishing in the top 10 and receiving the coveted Medallion of Excellence. This is of course topped off with 4 exceptional medal performances, ensuring Australia continues to build our reputation on the international stage," Judd said from Abu Dhabi.
"I acknowledge and applaud the wonderful achievements of Ryan, Trystan, Lily and Brad for their own outstanding individual results and medals as they are richly deserved.
"In July, WorldSkills Australia selected, following a series of intense state and national competitions, 18 of the most skilled young Australians to represent their country, our organisation, themselves and their support networks on the international stage and I'm thrilled to say each and every one of them did it superbly.
"These 18 young, talented individuals prepared themselves to compete against the best the world has to offer with great professionalism and commitment to their respective skills and the results we achieved collectively were testament to that preparation and everyone associated with the are incredibly proud.
"Team Australia finished the competition ranked above other highly competitive nations such New Zealand, the United Kingdom and Ireland. We are very proud of the performance, and each Skillaroo had a significant part to play in this success," Judd added.
The top 10 countries after this year's International competition are China, Switzerland, Korea, France, Brazil, Austria, Chinese Taipei, Italy, Liechtenstein and Australia.
Chair of WorldSkills Australia, Brian Wexham, also expressed his congratulations in response to the team's achievement.
'This was an outstanding result for Australia, and emphasises the immense quality of our vocational education and training system. The success of students in Abu Dhabi will serve as an inspiration to other young Australians," Wexham said.
WorldSkills Australia nurtures and develops the skills of young Australians, and highlights the opportunities available to those pursuing a trade or skill.
Team Australia is supported by Didasko Learning Resources, JobReady, Axalta, Dermalogica, Heatcraft, Pallion, Parex Davco, Australian Brick and Blocklaying Training Foundation Limited (ABBTF), Refrigerant Reclaim Australia, and the Welding Technology Institute of Australia (WTIA).