Where are they now? Graphic Designer Jane Stokie
"I have always been a person who has wanted to reach for the stars and extend myself where possible. My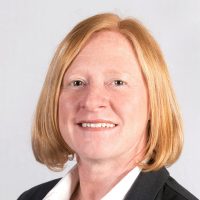 goals in life have changed over the years as I achieve one goal that I thought was out of my reach, I only want to achieve more. I believe doing an apprenticeship and competing in WorldSkills changed my outlook on careers and pathways and gave me the vision to look outside the square. I never feel confined in my thinking and always look beyond what I know is possible to explore if there is something else to achieve," says Jane.
In 1984, Jane Stokie embarked on an apprenticeship in Composition (Graphic Pre-Press) with Morphet Press Pty Ltd; twenty-five years later she was appointed the Director of Skills Competitions for WorldSkills International.
An apprenticeship was always a potential pathway for Jane, with her parents supportive of the trade industry, "both my Grandfather and father both had trade backgrounds," she explains. Another influence was the success her brother was achieving, "he was a top apprentice of his time taking out many awards and I wanted to be just like him," she explains.
Jane also recognised the benefits of an apprenticeship, "An apprenticeship sets you up for a career as a qualified trade professional. You learn from industry experts which gives you hands-on experience with the added advantage that you are earning while learning. Whilst you are getting experience, you will also be gaining a nationally recognized qualification which you can carry forward too many other pathways," she says.
For Jane, competing at WorldSkills was far more than a test of her competency in Graphic Design. It provided a foundation for personal growth and in hindsight an unexpected career path. "Competing in WorldSkills is not only about technical skills and while I believe I had most of the skills required to compete it was the personal growth that I benefitted from most. I was quite a reserved young lady at the time who needed to believe more in myself and my abilities. Being a Competitor helped me to gain the very important self confidence that holds me in good stead today," explains Jane.
Jane has been involved with WorldSkills since she competed in Graphic Design at the 1988 Youth Skills Olympics in Sydney. Describing her experience as "life-changing, inspiring and infectious". Jane entered WorldSkills after it was suggested to her by a teacher, "Basically, I was in the right place at the right time. My teacher from trade school approached me to compete. I had no idea what he was talking about, but it sounded like a good opportunity at the time with possibilities to represent my country. I certainly didn't consider that it would be the life-changing experience that it has been," says Jane.
Between 1999 and 2007 Jane was involved with WorldSkills Australia as an Expert, Chief Expert and Deputy Chief Expert. In 2009, Jane was appointed as the Director of Skills Competition for WorldSkills International and has held this position for the past nine years. "I am responsible for the management and coordination of the skills competitions at the biennial WorldSkills Competition. This involves project management, event management, coordination of Technical Descriptions and Test Projects, maintaining the WorldSkills Standards Specifications which are a global reference to standards in over 50 occupations, and the successful execution of the skills competitions," explains Jane.