National Skills Week: Introducing Monique Juratovac, WA bricklaying apprentice
In honour of National Skills Week 2020, we're profiling a number of competitors who are training hard in preparation of the WorldSkills Australia National Championships. To find out more about how we're keeping our competitors engaged, upskilled and motivated during in the lead-up to Nationals, click here.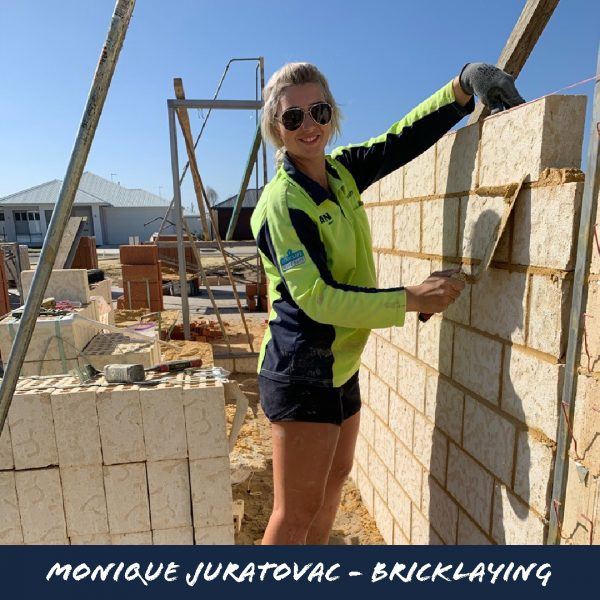 Bricklaying was not the career path Monique Juratovac saw for herself when she was younger.
The Perth-based bricklaying apprentice initially embarked on a career in hairdressing – but after completing her three-year apprenticeship, as well as an additional year of industry experience, she knew it wasn't for her.
While searching for a new calling, Monique decided to do a trial run with a bricklaying family friend – and she hasn't looked back.
It's a trade where she gets to work outside, be hands-on, and still harness that creativity and eye for detail that initially led her to hairdressing.
Since discovering her love for bricklaying, Monique has focused on making a career in the industry a reality, and is now doing an apprenticeship with ABN Group, a leading construction and property group based out of WA
Given her passion for the field, as well as the consistently great feedback she's received during her apprenticeship, it's unsurprising that Monique decided to compete at a WorldSkills Australia regional competition in 2019, where she received a gold medal for bricklaying, and, as a result, a spot at the upcoming WorldSkills Australia National Championships due to be held in Perth in May 2021.
Like so much of the up-and-coming skilled talent across Australia, Monique will spend the next few months perfecting her skill in the hopes of winning a medal at Nationals, and a spot on the Skillaroos.
While she received some pushback from people when she decided to make the switch from hairdressing to bricklaying, Monique is confident she made the right choice, and has some advice for other young people who are hesitant to take on a non-traditional trade.
"If you really want to do it, set your mind to it and go for it."