Ben Plummer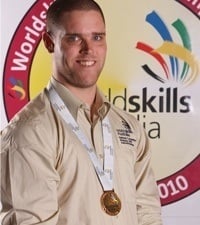 WorldSkills History:
Regional Competition 2009: Gold
National Competition 2010: Gold
About me
Sign writing was always something I wanted to do from when I left school as I always liked drawing and had an obsession with calligraphy and black letter fonts. I have always been fascinated with large displays that have a visual impact.
Getting into the industry was the next thing, after countless job applications and continually being knocked back due to lack of experience I gave up for a few years.  This was until a friend said he was working at a sign shop but was leaving and his boss was finding it difficult to hire a replacement.  I set up a meeting with him, told him my story and the rest is history.
In the long term I would like to be working for myself by the age of 30. I hope to employ a small team of staff and purchase a workshop with a small fleet of vehicles.
What I enjoy most about signcraft
I couldn't really pin point one thing that I enjoy most about my job. I enjoy the creativity I can have with design and also the computer aspect of it.  I love the hands on side of getting out on site and installing signs. I am really enjoying the challenges involved with digital print vehicle wraps at the moment, from design and printing through to application. Overall job satisfaction is gained through recreating a small concept or sketch into a design that not only looks great, but makes people stop, read and think about.
How has WorldSkills Australia helped me?
After competing in the Regional and National WorldSkills Australia competitions I have a lot more confidence in my own ability as a sign writer which has led me to try a wider variety of tasks. I have also gained a lot of confidence in myself when it comes to high pressure situations. I recently started my own sign company on the side and now I don't hesitate to take on larger jobs.  Overall WorldSkills has given me the self-assurance I need to be the best I can be.
I would highly recommend competing in the WorldSkills competitions. It was an amazing experience that I thoroughly enjoyed and have hugely benefited from.  It gave me the opportunity to travel to Brisbane to compete and I will be travelling to London in September thanks to the BBM Skilled Futures Program.