Lukas Page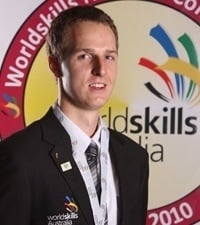 WorldSkills History:
Regional Competition 2009: Gold
National Competition 2010: Gold
About me
I have always been interested in learning about how things work and how things are constructed. I also love working with my hands to make things from start to finish. Timber has always been my favourite material to work with so an apprenticeship in joinery seemed like a good fit for me.  I applied for an apprenticeship at Perry Bird Pickets and received the job that very day.  Being able to learn a trade you're passionate about while being paid to do what comes naturally to you is an amazing feeling. There is a skills shortage, so you will never be out of work, there are many opportunities to travel or try something new.
In the short term I hope to complete my apprenticeship this year. I aim to further increase my skills and knowledge over in the United Kingdom by learning new and traditional ways in which joinery can be constructed. Furthermore, I hope to bring home everything I have learnt so that it can be passed on to future apprentices as I aspire to become a TAFE teacher later on in life.
What I enjoy most about detailed joinery
I enjoy the challenge of working out how to construct the project whatever it may be as well as the process of making it.  However, I mostly enjoy looking at the final product and saying to myself "I made that".
How has WorldSkills Australia helped me?
WorldSkills has given me more confidence, greater accuracy, better time management, an opportunity to refine my skills and provided me with the knowledge and opportunity to do things I would have never seen myself doing. It has taken me beyond my everyday work and given me more opportunities to experiment with different techniques at home in my own workshop.
WorldSkills is a fantastic and forever growing organisation. I would encourage all young apprentices and skilled workers to get involved, compete and challenge themselves to see just how far WorldSkills can take them.
Work Experience in the UK
I would like to participate in work experience at a company which restores old buildings and furniture. It would be a great opportunity to work on heritage buildings from another era compared to the young buildings of Australia. Restoration is something I have always been interested in. The enjoyment that I get reviving old timber and furniture back to life is fantastic.  Seeing the true colour and beauty of that piece is a great feeling.   The knowledge gained from this work experience will help me to develop and improve my skills and techniques which can then be transferred back to my career in Australia.  In general I hope to improve the quality of my workmanship.
I look forward to the whole experience of seeing a different country and its culture.  This is as well as making new friends and mentors during the Team Leadership Challenge.  I look forward to the fun and enjoyment we are all going to have, while learning new skills through my work experience and whatever else that may be thrown before me.