Travis Duff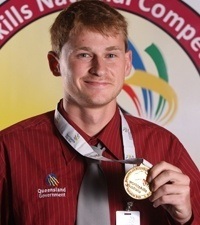 WorldSkills History:
Regional Competition 2009: Gold
National Competition 2010: Gold
About me
Growing up I've always been interested in the mechanical side of things and this type of industry has both a huge variety and opportunity to learn and see how everything works.  I'm committed to working hard and improving my skill levels in order to make opportunities for advancement within the Mendham Engineering group.  I aspire to one day run the company.
What I enjoy most about turning
Being able to manufacture and repair almost anything you can think of and the variety of machinery that we get to use really blows your mind.
How has WorldSkills Australia helped me?
So far WorldSkills Australia has helped me to enhance my skills as I practiced as much as possible before my competitions.  It also helped me to meet new people and see new things.  Competing against the best in your trade really opens your eyes as to where your skill levels are. There are also great opportunities that follow on from the competition.
Work Experience in the UK
I would like to do similar work over there just to see if there are any differences.  I would also like to try some automotive fabrication work as it is a hobby of mine.  I can't wait to get in there and see how it all works and compares, learn as much as I can, meet the people behind it all and hopefully open up doorways to new and interesting opportunities.
I'm looking forward to travelling overseas, meeting new people and seeing how the rest of the world operates in trades compared to those in Australia.