Shane Rofe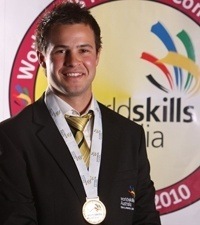 WorldSkills History:
Regional Competition 2009: Gold
National Competition 2010: Gold
About me
I have always been interested in building ever since I was young.  I enjoyed working with my father who was a carpenter and found that I was quite talented in this field.
In the short term of my career I hope to spend a year working in the UK which I will do as part of the BBM scholarship as well as another scholarship I have been awarded by the Australia Overseas Foundation.  In the long term I would like to start my own building company with the aim of buying my own properties which I can develop and either sell or rent. I have already completed my Certificate IV in Building, therefore once I have enough experience to get my license this is definitely a goal to work towards.
What I enjoy most about carpentry
I enjoy my job because of the satisfaction I get out of building something with my own hands and being able to look back at what I have helped to produce.  I also enjoy my job because I've developed a good friendship with my work mates and have plenty of laughs while on the job.
How has WorldSkills Australia helped me?
WorldSkills Australia has helped me to gain this scholarship which I hope will open up a wealth of opportunities for work interests overseas as I plan on spending some time working internationally.  I would highly recommend participating in WorldSkills competitions as it is a great opportunity not only to boost your career but to also make new friends.
Work Experience in the UK
I would like to work on quality building projects where I will experience different architecture and building techniques to what I have been working on so far in my career.  Further to that, I look forward to bringing home to Australia the new found knowledge I hope to gain from working internationally.  I am also excited about seeing a bit more of the world as well as just having a good time.