Gerard Allen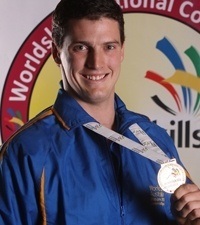 WorldSkills History:
Regional Competition 2007: Gold
National Competition 2008: Silver
Regional Competition 2009: Gold
National Competition 2010: Gold
About me
After school I wanted to join the building industry.  I tried a few trades and found plumbing the most interesting with a lot of variety.  Plumbers are first in and last out.  I started my apprenticeship in 2007 with Custom Plumbing after a week trial and haven't looked back.
In the short term my immediate goal is to be a Leading Hand or Work-Site Foreman and to run and successfully complete the job with all the skills I have learned. In the long term I wish to own and run my own business.
What I enjoy most about plumbing
What I most enjoy about the plumbing industry is seeing the results of the work I am doing, I can look back and say to myself "I built that". I enjoy working outside in the sun on a great day.  Working with a wide variety of personalities makes everyday new and exciting.
How has WorldSkills Australia helped me?
After competing in WorldSkills for the first time as a first year apprentice I had to learn new skills quickly to be able to compete at the National Competition in Sydney in 2008.  After winning in Brisbane 2010 I had a large skill set and was signed off five months early from my apprenticeship. Personally WorldSkills has been an exciting experience, meeting great people from all over Australia who are just as determined as you are to be the best.  WorldSkills is a must for all those who wish to test their skills against other people in their trade as well as to meet people and make great industry contacts.
Work Experience in the UK
I would like to work in a medium to large scale commercial plumbing company that specialises in drainage, ground works and commercial building such as schools, hospitals, sporting venues, factories and science centres.  I would like to learn how these types of businesses run and manage their staff.
Work experience in the UK will help me to gain new skills, ideas and techniques that I might not be able to learn in Australia. By learning these skills I will develop a better knowledge of the plumbing industry that will help me start my own business in the future. I also hope to learn about new and upcoming products and create industry contacts in the UK.
I am excited to be travelling over to the UK as well as the opportunity to work in a foreign country, it will no doubt be an eye opening experience.  I am especially looking forward to meeting my fellow BBM competitors and starting new friendships.