Katherine Howden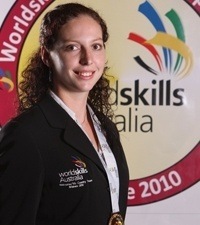 WorldSkills History:
Regional Competition 2009: Gold
National Competition 2010: Gold
About me
I have always loved painting and art so after completing a Diploma in Interior Design I decided to get more hands on and start my apprenticeship.  I hope to enhance my skills and experience and one day run my own business with apprentices of my own.
What I enjoy most about painting and decorating
I enjoy being the one who creates the finished product.
How has WorldSkills Australia helped me?
The whole WorldSkills experience has given me a chance to broaden my horizons and it has allowed me to meet some great people.  It has been a wonderful experience and enhanced my skills and understanding of the entire industry.  I would definitely recommend WorldSkills Australia to others, it's a great experience that creates new opportunities in your desired field as well as forms lasting friendships.
Work Experience in the UK
I am fascinated with the more specialised side of painting, restoring, marbling, graining, stucco and Trompe L'oeil (Trick of the Eye). I would love to expand my skill set in these areas.  I would like to achieve a greater understanding of my trade and skills in general.  I am looking forward to learning about how painting and decorating varies in countries outside of Australia.  I have never left Australia so to visit other parts of the world and learn how my trade differs from country-to-country will be one of the best experiences.