Halina Kaufman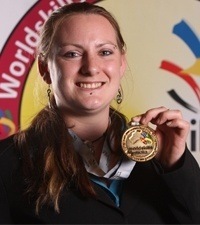 WorldSkills History:
Regional Competition 2009: Gold
National Competition 2010:  Gold
About me
I always enjoyed and excelled at art throughout school but was unsure where I wanted it to take me. Luckily I was in the right place at the right time, without a job when an apprenticeship was offered to me at Joyce Jewellers. As soon as I started I knew it was right for me. I really enjoy jewellery making and have never looked back.
In the short term I would like to keep learning new skills in all areas of the trade and gain as much experience as possible. In the long term I would like to own a small jewellery studio and workshop where I can create unique pieces of jewellery and make a comfortable living from my work.
What I enjoy most about jewellery making
I enjoy making original pieces of jewellery as well as working with the customers to create an idea into a piece of jewellery. I have had customers cry with happiness and hug me, it's a very humbling experience.
How has WorldSkills Australia helped me?
WorldSkills has given me the opportunity to push myself to excel.  Competing against the best in your field is very challenging but also extremely exciting. I have gained recognition at my workplace and in my community through participating in WorldSkills Australia competitions.  I would recommend competing in a WorldSkills competition to anyone. It is very challenging but you come out learning so much about yourself and the opportunities that arise from the experience are endless.
Work Experience in the UK
I would like to experience different workplaces that are unlike my current employer. Working in specialised engraving, stone setters, gem cutting, or high end jewellery stores would be fantastic.
I hope to learn as many new skills as I can while in the UK.  I am interested in learning the different tricks of the trade that can only be acquired through hands on learning and from other people's experiences. I may even have some experiences to pass on myself.
I am looking forward to experiencing another part of the world and hopefully gaining opportunities to learn from many other creative talents in the jewellery industry. This is as well as seeing the different fashion trends and allowing them to expand my own creativity to better myself as a jewellery designer which will hopefully open doors for my future in the industry.