Daniel Kostakakis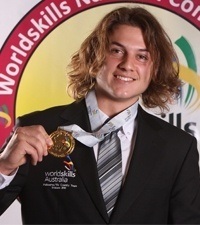 WorldSkills History:
Regional Competition 2009: Gold
National Competition 2010: Gold
About me
When I was younger I had always had a keen interest in cars and learning about metal working techniques and welding skills. After watching American Chopper on the Discovery Channel my eyes were opened to a deeper understanding of the direction I wanted to take. Once I finished high school I was hired as an apprentice panel-beater.
In the short term of my career I'm looking to refine and polish my skills so that I can become more relaxed and in control whilst working.  My long term goals include owning a business and being financially secure so that I am able to enjoy my trade and career.
What I enjoy most about autobody repair
I enjoy the hard work that is involved, not only physically but mentally. I love the blood, sweat and tears that come along with the job. The creative nature of auto body repair allows me to express myself and show others who I am in terms of personality, attitude and nature. 
How has WorldSkills Australia helped me?
Worldskills has helped me to become more confident and sociable with others. I have gained a lot more belief in myself, my work and my ability as a tradesperson. I regard WorldSkills as being one of the biggest highlights of my life so far.  I am happy to have participated in and experienced such a unique event.  I would highly recommend it to anybody who is interested in furthering their career as WorldSkills is certain to open doorways to new opportunities.
Work Experience in the UK
I am interested in conducting my work experience in a small to medium sized coach building workshop.  I hope to receive one on one mentoring in panel fabrication and coach building. I would also like to look at job opportunities in larger automotive companies so that I could experience different types of areas that I may potentially be suited to.  For the most part I'm after new knowledge and experience which would otherwise be out of reach if not for the BBM Skilled Futures Program. I look forward to new environments and people to learn from and share ideas with.
I'm definitely looking forward to meeting and sharing this experience with the other lucky WorldSkills BBM Skilled Futures Program recipients.   I am also excited about supporting the Team Australia Skillaroos at the WorldSkills International Competition in London. The atmosphere is going to be electric.