Cejay Alsop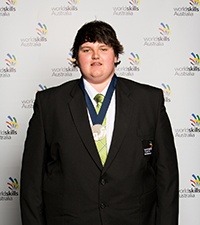 Skill: Sheetmetal
Region: Hunter, NSW
Training Provider: TAFE Newcastle & TAFE Sydney, NSW
Employer: DMF Construction
Mentor: John Gardiner and John Anderson
A dad who is a 'sheetie' and childhood making stuff in his dad's shed inspired Cejay's love of metal work. His pre-apprenticeship and Cert III at TAFE Newcastle in 2012 with teacher John Gardiner was followed by a Cert IV in Fabrication and Engineering in Sydney in 2016. His current boss, Danny Fletcher, participated in WorldSkills himself, and has been a great support.
"My favourite part of the WorldSkills Australia experience is the knowledge and skill I acquired. Having mentors and leaders believe in me has really helped me grow as a person. I want to go back! I met an awesome group of people, and all us metal workers are planning an annual trip together."
Cejay will be working with a UK company that makes bridges, handrails and walkways, much of which will be new to him. He will be learning to operate new machinery and developing his skills in the aesthetics of intricate work.
Fast facts
Three words that best describe you: "Dedicated, passionate, perfectionist."
What is the best UK saying that you know? "Bob's your uncle!"
What will miss about Australia? "Our nice, warm summer weather!"