Jordan Andrews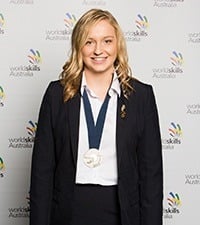 Skill: Hairdressing
Region: Geelong, VIC
Training Provider: The Gordon Geelong
Employer: Joshae Hair and Beauty, Clifton Springs
Mentor: Karen Reed
Jordan has always been interested in the art of hair. When she started investigating work opportunities she naturally gravitated towards hairdressing and hasn't regretted a minute of it. She started her apprenticeship in 2014 and completed it in 2016.
"My favourite part of the WorldSkills experience was spending time with all the other competitors. Everyone was there to further themselves and learn as much as they could. Regardless of the competition that was going on inside the pavilion, once we were outside, it was like a huge group of friends catching up. I met a lot of incredible people!"
Jordan has secured a UK placement at Hob Salons, and is looking forward to the opportunity of assisting world-class cutters and stylists. If she proves herself, she could be given a bigger role within their salons. She is passionate about recycling in the hair industry and believes becoming sustainable is something all salons should implement. After seeing Joshae Hair and Beauty reduce their carbon footprint by 95%, she is keen to encourage sustainability for all salons.
Fast facts
What you will miss about Australia: "I'm going to miss my little dog 'Boofa' more than anything in the world!"
One thing that most people don't know about you: "One of my favourite snacks of all time is a potato chip sandwich. Sour cream and onion chips on fresh bread. Delicious!"
What do you expect to be asked about Australia: "An English friend asked if we actually keep kangaroos as pets, so I think kangaroos could be a popular topic."