Nicholas Lennox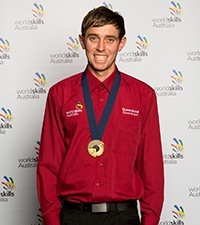 Skill: Electrical Installation
Region: Wide Bay, QLD
Training Provider: TAFE East Coast Bundaberg
Employer: Big T Electrical & Cooling Bundaberg
Mentor: Timothy Lennox
Nicholas began his electrical installation training in May 2013. He was inspired to pursue the trade by his older brother, who runs his own business, Big T Electrical & Cooling. Nicholas did his four-year electrical apprenticeship at Big T, and completed it in March 2017. This is the second trade this committed young man has under his belt – he is also qualified sheet metal worker.
Nicholas enjoys the variety presented by the electrical trade, and the opportunities it presents for experiencing different environments and having lots of customer interaction.
"I really enjoyed going to Melbourne and challenging myself by competing against many other great electricians during my WorldSkills Australia experience," says Nicholas, who is interested in learning more about control electrical work.
He is excited about experiencing a new environment during his time in the UK, where he'll work with an air conditioning company, though he'll miss his family and friends. In the future, he hopes to start his own business, perhaps combining his two trades into one innovative customer offering.
Fast facts
Three words that best describe you: "Hardworking, committed, trustworthy."
One thing that most people don't know about you: "I enjoy gardening."
Vegemite or Marmite: "Vegemite."