Tyler Atkinson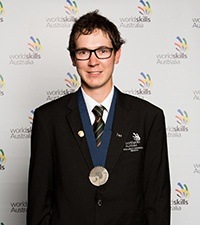 Skill: Cabinet Making
Region: Ballarat/Wimmera, VIC
Training Provider: Federation University
Employer: Bill Price Ballarat Furniture Company
Mentor: Colin Trembath
Tyler has always enjoyed making things. From a very young age he built stuff in the shed at home. He started his apprenticeship with Bill Price Furniture Company in 2014, and is due to finish it just before he heads to the UK in mid 2017.
"I'm really excited about going to the UK. I'm looking forward to working with a company that focuses traditional hand skills so I can learn how to do woodturning and carving as skills in fine carving and traditional woodturning aren't offered where I am, and it's something I really want to learn how to do."
He had a great time at the Worldskills competition, where he enjoyed developing his skills and learning from the WorldSkills mentors, as well as making some great friends.
Fast facts
One thing that most people don't know about you: "I make knives from scratch."
What will you miss about Australia: " I use a bow to shoot everything from rabbits to buffalo."
Vegemite or marmite: "I don't like vegemite, so it will have to be theirs!"