Matthew Wills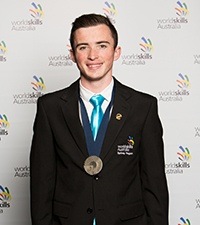 Skill: Cookery
Region: Sydney, NSW
Training Provider:  TAFE NSW
Employer: Merivale, Sydney
Mentor: Paul Smith
Matthew always had an interest in food, but it wasn't until he studied cooking in year 11 under Paul Smith at TAFE NSW that he felt motivated to become a chef. Paul had a lot of passion for the industry and encouraged Matthew to enter the WorldSkills Challenge. His apprenticeship started in 2013, and was completed early 2016.
"When you get to the national level everyone wants to win as much as you. The competition is pretty tough. Winning the award made it all that much better. It was all an amazing experience but team bonding meant the most to me. The friends I made from the WorldSkills journey will be in my life from here on out."
Matthew is hoping to be approved for a placement in the UK with his idol Heston Blumenthal. He finds the chef's treatment of food almost magical and thinks the skills he'd learn could be life changing.
Fast facts
What do you expect to be asked about Australia: "Do Australians love Fosters?"
What will you miss about Australia: "Friends, family and the weather."
One thing that most people don't know about you: "That I have Cystic Fibrosis."