Scott Shearan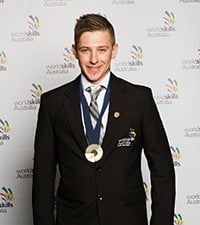 Skill: Auto Electrical 
Region: Sydney West, NSW
Training Provider: Western Sydney Institute of TAFE
Employer: Powers Road Auto Electrical Services PTY LTD
Mentor: Steve Pugsley
Scott became involved in the automotive electrical field when a school work experience with Powers Road Electrical Services led to an apprenticeship in 2011. His employer, Steve Pugsley, has a high work ethic and wealth of knowledge that encouraged Scott's natural drive to excel, and he completed his apprenticeship in 2015.
He officially represents Australian Apprenticeship and TAFE NSW in advertisements and at events like 'Motor world' Sydney Raceway. Other achievements include addressing the Premier of NSW in 2014 on funding cuts to apprenticeships as part of the 'Fair Go for the West' Campaign at Western Sydney University.
"Through an apprenticeship you are guaranteed to obtain a high level of skill, knowledge and experience that will make you attractive to future employers. It will provide you with the opportunity to achieve industry awards, recognition and international scholarships along with business acumen for self-employment probabilities."
Scott is currently studying an advanced diploma in Electronic and Communication Engineering as he considers that electric cars are the way of the future and wants to be at the forefront of the field. He is hoping to get a placement in the UK in electric car and driverless vehicle design and development.
Fast facts
Three words that best describe you: "Diligent, trustworthy and thorough."
One thing that most people don't know about you: "I sing in the shower."
What will you miss about Australia: "The beautiful beaches and hot days."