Zak Biggin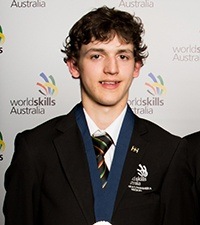 Skill: Engineering Team Challenge
Region: Ballarat/Wimmera, VIC
Training Provider: Federation University, Ballarat
Employer: Beramet, Ballarat
Mentor: Kelvin Marquand
Zac began his apprenticeship in Mechanical Trade Engineering in 2014 because it was the trade that would take him closest to learning the skills he needs for his major passion – gun smithing.
There is no training specific for gun smithing in Australia, so Zac hopes to secure a placement in the UK where he can learn gun making and gun smithing. In the future, he'd like to set up a business in Australia maintaining and producing quality custom firearms and Australian-made guns.
"For the Engineering Team Challenge I had to make a hammer crane, together with a welder. I trained every night for eight months. I made the parts five or six times over, every component, to see if I could do it faster and better. We made the crane in the three days of the competition. It was a lot of work to fit into three days."
This was Zac's second time as a WorldSkills competitor. The first time was in 2014, with VET school, when he won gold. This time we got a silver. Zac is planning on competing again in 2017; he has already put his name down for the regionals.
Fast facts
One thing that most people don't know about you: "I have a great passion for building and restoring the Landcruiser 40 series."
The best UK saying that you know: "I'd like to learn some while I'm there."
What you will miss about Australia: "My family and friends."