Jed Sparks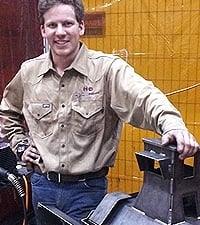 Training Institute: TAFE Queensland
Qualification: Certificate III in Engineering (Fabrication Trade – Boilermaking/Welding)
National Results: Gold Medal
With a particular interest in renewable energy sources, Jed "Jedrick" Sparks is a skilled pressure welder looking to gain welding experience in a diverse range of manufacturing and design industries.
Choose three words that best describe you.
Resourceful, dependable, problem-solver
What do you enjoy most about your trade/skill?
The satisfaction seeing a project you have built from flat plate and hollow section steel completed at the end of the day, along with the evolution of my skills as I progress through projects.
What has been your favourite part of your WorldSkills Australia experience?
Day 3 of the National Competition in Perth. During both day one and two of the competition I was a little diffident with how the project was progressing. But by day three I had settled into the competition setting and felt like a freight train – unstoppable.
What type of work experience would you like to undertake in the UK?
I would like to gain experience from the diversity of manufacturing and design in other countries. I would like to partake in the petrochemical, aerospace, or ship building industries, and experience the techniques and process undertaken by international tradesmen and workshops.
Tell us one thing that most people don't know about you.
I can ride a unicycle.
If you had one unlimited resource at your disposal for one day, what would it be and what would you do?
I would choose to possess incredible intellect in order to design and create a truly sustainable energy source which could be used to power anything from homes to motor vehicles.
What is the funniest question you expect to be asked about Australia?
Will I be able to see kangaroos in the street?
You're on your way to the UK so it has to be asked: Vegemite or Marmite?
'We're happy little Vegemites, as bright at bright can be.'