Natahlia Brandt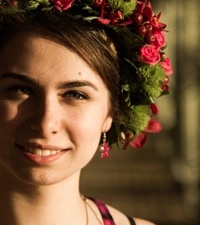 Training Institute: Marjorie Milner College
Qualification: Diploma of Floristry Design
National Results: Silver Medal
With a passion for making people happy, Natahlia "Nutella" Brandt is a talented florist with big ideas for making the world a better place.
Choose three words that best describe you.
Enthusiastic, loyal and teachable
What do you enjoy most about your trade/skill?
I love being able to create something different and unusual with whatever is in my hands and seeing the joy it brings to people who see it. I love to explore the boundaries of floral design and learning new techniques and ways to use materials that I previously wouldn't have considered useable.
What has been your favourite part of your WorldSkills Australia experience?
I loved the family/team feeling and camaraderie that we had among the Victorian competitors and team leaders: We all looked out for each other, visited each other's areas to see what we were all making and propped each other up when we'd had a bad day etc. It made the whole event a little more personal as you felt you were part of something bigger than yourself.
What type of work experience would you like to undertake in the UK?
I would like to undertake work that would challenge me to think outside my normal mindset, which would include understanding the different dynamics involved in catering to a culturally diverse population in country not familiar to me. Ideally, I would like the work to be of a variety that would include corporate events and out of the ordinary weddings and display opportunities.
Tell us one thing that most people don't know about you.
I don't drink coffee or tea!
If you had one unlimited resource at your disposal for one day, what would it be and what would you do?
I have a passion for helping people who are caught in human trafficking and the sex trade, both men and women. So if I had unlimited resources for one day, I would organize as many officials and people as possible to free the largest number of victims possible, and kick-starting a re-training process so they could earn money alternatively.
What is the funniest question you expect to be asked about Australia?
Do you have Kangaroos and Koalas in your backyard?
You're on your way to the UK so it has to be asked: Vegemite or Marmite?
Vegemite without a doubt! And it has to be thickly spread, too.