Oliver Baker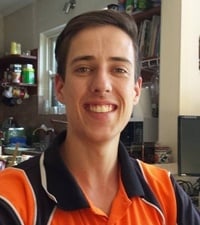 Training Institute: Canberra Institute of Technology
Qualification: Certificate III in Cabinetmaking
National Results: Bronze Medal
Oliver "Oli" Baker is a talented apprentice cabinetmaker that is keen to work with the world's best furniture and design craftspeople in the UK.
Choose three words that best describe you.
Intuitive, conscientious, observant
What do you enjoy most about your trade/skill?
I enjoy finishing and evaluating a job. It is very satisfying to see a finished project and learning from it.
What has been your favourite part of your WorldSkills Australia experience?
Achieving results that I didn't think were possible and completing tasks I didn't think I could.
What type of work experience would you like to undertake in the UK?
I would like to work for a joinery that makes high end, custom projects. I am excited to gain an understanding of a wider range of materials, styles, designs and culture of furniture making internationally as well as applying skills in differing applications of cabinetmaking.
Tell us one thing that most people don't know about you.
I enjoy playing the didgeridoo.
If you had one unlimited resource at your disposal for one day, what would it be and what would you do?
An airplane to travel wherever I like.
What is the funniest question you expect to be asked about Australia?
Are there really drop bears?
You're on your way to the UK so it has to be asked: Vegemite or Marmite?
Vegemite.