Trent Yeo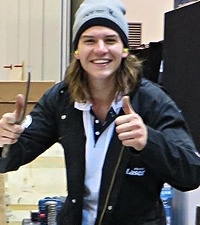 Training Institute: Kangan Institute, Docklands Campus
Qualification: Certificate III in Panel Beating
National Results: Gold Medal
With a keen desire to become an automotive industry mentor someday, Trent "Yeoy" Yeo is an ambitious panel beater with a interest in international panel beating techniques.
Choose three words that best describe you.
Confident, easy-going, relaxed
What do you enjoy most about your trade/skill?
Being able to build something from a flat piece of steel/wood and make it into a brand new panel/car, and the fact there isn't a lot of people who can do the work we do so I'll never worry about not working.
What has been your favourite part of your WorldSkills Australia experience?
It would have to be meeting people who wanted to be the best in their field like myself. And I can't forget celebrating on the Saturday and Sunday night after competition!
What type of work experience would you like to undertake in the UK?
I'll be hoping to find something to do with car restorations or custom car building. I hope to gain a better understanding of the materials used and their capabilities, and bring my experience home to produce world class custom vehicles in Australia. I hope to one day open my own custom panel shop and teach young people the skills l have learnt.
Tell us one thing that most people don't know about you.
I'm pretty fussy when it comes to what I eat.
If you had one unlimited resource at your disposal for one day, what would it be and what would you do?
Cash! I'd live like a king and invest in everything so I can continue living the dream and building my cars.
What is the funniest question you expect to be asked about Australia?
Either something about my haircut or about having pet kangaroos.
You're on your way to the UK so it has to be asked: Vegemite or Marmite?
Vegemite.