Thomas Meyers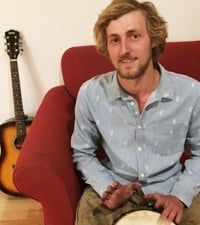 Training Institute: TAFE NSW Illawarra Institute, Wollongong Campus
Qualification: Diploma of Building & Construction
National Results: Bronze Medal
With a passion for sustainable building design, Thomas "Big Bird" Meyers is a skilled carpenter eager to bring new skills and innovations back to Australia.
Choose three words that best describe you.
Tall, adventurous, fun
What do you enjoy most about your trade/skill?
The thing I most enjoy about my job is the fact that I am always doing something different. At the start you have nothing but an empty block of land and some pieces of paper (a.k.a. plans) that show you what to build. By the end of construction you realise that you have built someone their dream home.
What has been your favourite part of your WorldSkills Australia experience?
My favourite part about the WorldSkills Australia experience was meeting so many new people and the whole journey. It's a really good feeling to know that someone from your team or a team leader is never too far away to assist you in any way possible.
What type of work experience would you like to undertake in the UK?
I would really like to gain some knowledge in the commercial side of construction and supervision. It is something that I have never done but has always been something that I'm intrigued in. Throughout my trip I would also like to see what innovations are being taken in regards to building sustainability and compare them to Australia to see what Australia has to do to keep up with Europe and the rest of the world.
Tell us one thing that most people don't know about you.
I broke my leg on a see-saw when I was 5 years old.
If you had one unlimited resource at your disposal for one day, what would it be and what would you do?
I would have an unlimited amount of perfect, un-crowded waves for me and my mates to surf all day!
What is the funniest question you expect to be asked about Australia?
What language do you speak in Australia?
You're on your way to the UK so it has to be asked: Vegemite or Marmite?
I've never tried Marmite, so I would have to say Vegemite.