Matthew Duffy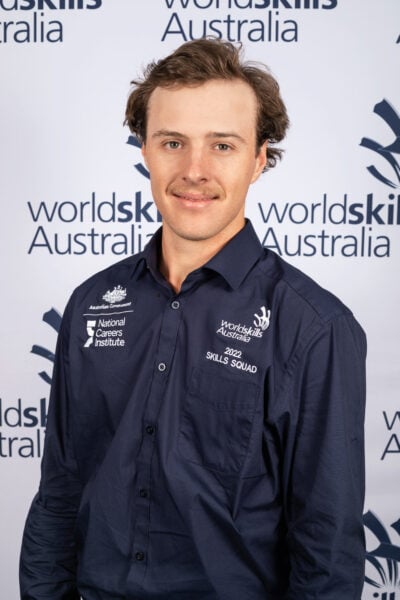 Matt Duffy has been around timber since he was just four years old.
With a father who's a builder, Matt spent plenty of his formative years in and around the building and construction industry, and started making things with timber at an early age. By the time he finished Year 10, Matt knew without a doubt that carpentry was what we wanted to do with his life, and so he enrolled in a Carpentry course at TAFE NSW Wollongong.
Someone who thrives on competition and always wants to be the best, Matt entered a WorldSkills regional competition to both test his skills and learn new ones. His performance at regionals was impressive, and he was asked to compete in the WorldSkills Australia National Championships, where he was awarded a silver medal. With only fractions of a point separating Matt from the competitor who won gold, the pair participated in a 'Skill Off' to determine who would proceed to the International competition.
Since winning the Skill Off, Matt is working closely with expert Allen Hill in preparation for the 46th WorldSkills International Competition in Shanghai this coming August. Matt's training plan consists of practising all different types of roof joints; he's aiming to produce quality work to exact measurements from plans and so far feels very confident in how he's progressing with training.
Having recently started a modular/tiny home business with his dad, Matt is managing to fit his training schedule around the many demands of a new business, as well as his existing work in residential building.
For someone who dreamt of playing cricket internationally as a kid, the opportunity to represent Australia in carpentry means a lot to Matt, who is looking forward to testing his own skills against the best carpenters in the world.
When asked what the WorldSkills journey has taught him so far, Matt says, "I've learnt so much. The tasks and project we were given for the national competition were things I would never do in my job as a carpenter. I've learnt so much from that, which has just grown my skills even more as a carpenter."
Expert
Allen

Hill

With 25 years of industry experience, TAFE NSW carpentry teacher and WorldSkills expert Allen Hill knows carpentry.

Growing up with a father who was also a builder, Allen's love of the geometry and complexity of carpentry has led to him carving out a long career in the industry.

Now, Allen is sharing his wealth of experience in the industry with Matt, who he hopes will return home from Shanghai with a gold medal.