Angus Sweet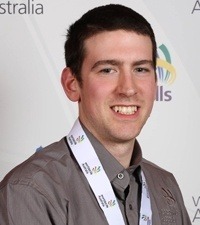 Training Institute: TAFE SA, Mount Gambier Campus
Formal Qualification: Certificate III in Electrotechnology Systems Electrician (Class A)
WorldSkills History:
Regional Competition 2011: Gold
National Competition 2012: Gold
About me:
From a very young age I always had an interest in figuring out how things worked, in particular electrical appliances and electronics. During high school I decided that I wanted to be an industrial electrician so I started applying for apprenticeships at local timber mills.
It was a very happy moment for me when I received a call from Carter Holt Harvey offering me a position as a maintenance electrician. My time with Carter Holt Harvey provided me with some fantastic experiences and a great foundation. Recently however, in a bid to develop even further on my skills, I have accepted a new role at Smith's Snack Foods in Adelaide.
My long-term goal is to continue building my skills, qualifications and experience to the level of a technician and possibly even an engineer.
What I enjoy most about electrical control?
My main role is to repair automated machinery and that is what I enjoy most, I really love the satisfaction I get from seeing a machine in operation especially when I'm the one responsible for its maintenance.
How has WorldSkills helped me?
WorldSkills has helped me to build personal and professional skills, and has given me the confidence to keep challenging myself at work and at home. I now have a very unique resume, which has seen me stand out from others and has definitely improved my employability.
What type of work experience would you like to undertake in the UK?
I want to learn more about automated machinery in manufacturing operations, so experience at vehicle/parts manufacturing sites would be very beneficial to my career. The areas in which I am hoping to develop my skills include; Programmable Logic Controllers (PLC), Computer Numerical Control (CNC), Robotics, Supervisory Control and Data Acquisition (SCADA) and Instrumentation and Building Management Systems (BMS).
What I would like to get out of this work experience?
I hope to gain knowledge in other areas of the industrial world to see the differences in manufacturing methods in another country. To be exposed to the technical side of electrical automation will give me a better idea on what I want to pursue in my career.