Richelle Hassett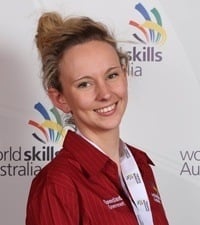 Training Institute: Baking Industry Training Australia, QLD (B.I.T.A)
Formal Qualification:  Certificate III Retail Baking – Bread
WorldSkills History:
Regional Competition 2011: Gold
National Competition 2012: Gold
 About Me:
When I was younger I worked at Bakers Delight on the front counter and soon after was promoted to help out a few days a week in production. I soon realised that I immensely enjoyed the work and was more than eager to learn more. When a spot opened up for an apprenticeship I jumped at the opportunity. Around the time of my qualification I knew how passionate I was about baking, I entered any competition available to make as many different products as possible. After having success in these competitions I became more interested in the industry and in particular the future of the baking industry. I wanted all my apprentices to be involved as well and to feel the passion and drive that I did. Through this I have formed many great relationships within the industry and only looking to involve myself as much as possible.
I'm currently working for Adriano Zumbo, learning about cakes and desserts and can't wait to head to the UK for the BBM Skilled Futures Program to continue learning new techniques and skills.
In short term I want to develop my skills in the basics of pastry, travel the world to learn the secrets of the industry as well as to connect and develop relationship with industry leaders. My goal is to expand on my understanding of artisan breads, chocolate and sugar works. Longer term I hope to open my own business, teach people my profession and encourage long-term growth within the Australian industry. I'd also love to compete for my country in Le Coupe Du Monde.
What do you enjoy most about baking?
I am lucky enough to be in a profession and environment where I am constantly being exposed to new techniques and ways of practice, which allows me to constantly learn and develop my skills.
I have freedom of expression in my job and have been fortunate enough to have fantastic employers who are more than encouraging for me to experiment and learn in my own time using their facilities. I love that I can teach others my skills and I take great pride in watching an individual growing under my guidance.
How has WorldSkills helped me?
Winning gold in my category at the WorldSkills National Competition gave me an enormous confidence boost; it has also helped further my career extensively. Since winning, I've been working with Australian patissier Adriano Zumbo, an incredible learning experience and a great honour.
I now know that with hard work anything is within reach for me. My team leader has also helped me personally on many levels, providing encouragement, passing on invaluable knowledge and being there for me throughout my WorldSkills journey.
What type of work experience would you like to undertake in the UK?
I would love to gain experience in the fields of artisan breads, cakes, pastry, chocolate, sugar and desserts. I am also very interested in finding some work experience working in hotels, restaurants, bakeries or local patisseries.
What I would like to get out of this work experience?
My primary focus whilst undertaking my work experience is to gain as much knowledge I can, and to meet as many people within the industry as possible. I wish to learn about the different ways bread is made in different countries and to be able to confidently bring that back to Australia.