Dylan Ward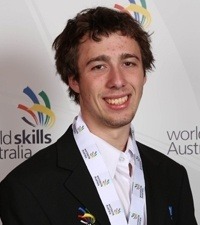 Training Institute: TAFE NSW – Hunter Institute, Glendale Campus
Formal Qualification: Certificate III in Automotive Vehicle Body (Specialising in Vehicle Painting)
WorldSkills History:
Regional Competition 2011: Gold
National Competition 2012: Silver
About me:
Growing up I was always interested in spray painting, I spent countless hours helping to repair vintage motorbikes and cars with my family. As part of my high school work experience I was the given the opportunity to work with Express Coach Builders which then led to a one year traineeship in bus building.
One rotation of this traineeship involved spray painting, where my supervisor had commented on my natural ability using a spray gun. Unfortunately the company was not in the position to offer me an apprenticeship on completion of the traineeship so I began applying with other businesses.
Luckily for me Natureland Smash Repairs were willing to give me a one week trial. Spotting my evident eagerness for the trade, they offered me an apprenticeship and I haven't looked back ever since.
My long term goal is to own and operate my own panel/custom paint shop and then possibly become a TAFE teacher to pass on the invaluable knowledge and skills I learnt from my TAFE teachers, to other aspiring apprentices.
What I enjoy most about vehicle painting?
I really enjoy the challenges of working on varying tasks, from restoring  vintage machinery to repairing current day vehicles and of course the satisfaction which comes from being able to stand back and admire my work. To be able to help customers restore a family treasure; vintage car, truck or other piece of machinery, and then see their amazement in the final job is an incredible feeling.
How has WorldSkills helped me?
Competing in WorldSkills Regional and National Competitions has given me more self-confidence, increased my skills and also has helped me to improve my time management.
The experience of being watched by so many of my industry peers, judges and the general public during the National Competition was definitely a positive boost in my development as a spray painter.
What type of work experience would you like to undertake in the UK?
Ideally the work experience that I undertake whilst in the UK would include time in a paint manufacturing plant. I want to learn and understand their product range, the techniques and tools required to apply these products and the safety procedures. Particularly as in recent times the paint industry has seen a big change to water borne products, which means that there is a lot to learn. I would also appreciate the opportunity to spend time in a restoration shop.
What I would like to get out of this work experience?
From my work experience opportunities I would like to gain the knowledge to improve and develop my skills further. I hope to bring back information of new methods and products that can be useful in my career and for my current employer.