Justin Halliday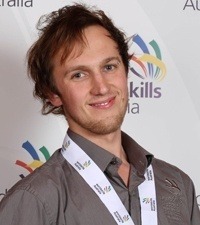 Training Institute: TAFE SA – Noarlunga Campus
Formal Qualification:  Certificate III in Painting and Decorating
WorldSkills History:
Regional Competition 2011: Gold
National Competition 2012: Gold
About me:
Ever since I was young I've been interested in painting. Over the years I did a few experimental jobs painting bedrooms and that only developed the interest further.
When my dad came to me and mentioned he knew a painter and decorator who was interested in hiring a young guy to help him out I jumped at the opportunity. After working for him for 18 months I gained an apprenticeship in Painting and Decorating.
My short-term goal is to complete my apprenticeship to gain as much knowledge and skills I can when I travel to the UK to participate in the BBM Skilled Futures Program. Longer term I aim to focus mainly on decorative finishes and to one-day start my own business utilizing the skills I've acquired over the years.
What I enjoy most about painting & decorating?
The thing I enjoy most about painting and decorating is being able to make people's homes, businesses and workplaces look interesting as well as bring colour into their lives. I love seeing the final outcome of the work I've completed and being able to proudly say I've completed this and have made my customers happy.
 How has WorldSkills helped me?
WorldSkills has given me so much more than I ever imagined. Not only has it made me more confident in my abilities it has provided me with new skills which I can use in my daily work, including better time management and organisational skills.
Throughout my WorldSkills experience I have met so many wonderful people; from the team leaders to the fellow competitors, my Adelaide teammates and my TAFE lecturer who has given up so much time and effort to help train me.
What type of work experience would you like to undertake in the UK?
I would like to undertake work experience in decorative finishes which include marbling, graining, scumbling, French wash and wallpapering, which are most commonly found in the UK. These finishes are aspects of my trade I find fascinating so I'd like to pursue them and bring the new skills and techniques I learn back home to Australia.
What I would like to get out of this work experience?
I hope to work with and gain knowledge from my host employer and take in as much information about my trade as I can. I'd really like to learn a lot more about wallpapering techniques as this is something I really enjoy. I really want this experience to assist me in improving my quality of work and in turn shaping me to become a more well-rounded professional painter.