Rachel Mammatt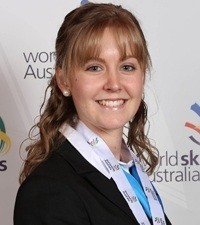 Training Institute: TAFE NSW – Illawarra Institute, Shellharbour Campus
Formal Qualification:
Certificate II in Business
Certificate III in Business Administration
Certificate IV in Business Administration & Diploma of Management
WorldSkills History:
Regional Competition 2011: Gold
National Competition 2012: Silver
About me:
Working in office administration appealed to me as a career choice and my Year 10 work experience in a very busy office with an incredibly organised and knowledgeable administration assistant confirmed my decision.
On completion of my HSC, I enrolled at TAFE and completed Certificates II, III and IV in Business Administration. I gained a full-time receptionist position at ADM Architects and within a year became the Assistant to the Director. To further my skills and knowledge, I then completed a Diploma of Management.
I enjoy the interesting, challenging and diversified work that I experience daily at ADM Architects and look forward to the client relationships that are developed when working on specific projects. I am appreciative of the company's support and their provision of leave to enable me to participate in the WorldSkills competitions and the BBM Scholarship.
In the short term I am looking forward to travelling to the UK this year to participate in the BBM Skilled Futures Program and in the long term, I would like to continue working within business services in positions that I enjoy and challenge me.
What enjoy most about business services:
Business services allows me to organise the company's administrative requirements to a high standard which is beneficial to the company. I enjoy producing documents that require me to use my own initiative and creativity. I also enjoy meeting people and find my job to be challenging and stimulating with no two days the same. Working in business services also provides me with the opportunity to work in any business field.
How has WorldSkills helped me?
WorldSkills has helped me by providing me with opportunities and experiences that I could not have imagined. By organising vocational competitions, WorldSkills has given me the opportunity to test my abilities against other young people. This was both challenging and enjoyable and was a very positive experience. Participation in the competitions ensured I continuously developed my computer skills and knowledge. I greatly appreciate the opportunity that my TAFE teachers and regional team leaders have given me.
WorldSkills has also provided me with an amazing scholarship and the opportunity to travel to the UK to participate in the BBM Skilled Futures Program. I feel very privileged, as well as nervous and excited. I am looking forward to participating in the leadership program as well as experiencing work with UK companies where I can learn more about business services from an international perspective.
What type of work experience would I like to undertake in the UK?
I would like to undertake work experience within business administration, particularly in a company or organisation that is different to what Australia has to offer.
What would I like to gain from this work experience?
Work experience in the UK will provide me with a once in a lifetime opportunity. I hope to gain knowledge of business administration from an international perspective and learn UK-based skills that I will be able to bring back to Australia.