Tyler Cook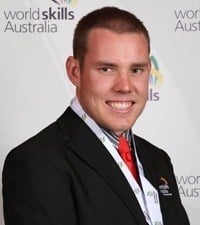 Training Institute: TAFE NSW – Western Institute, Dubbo College
Formal Qualification: Certificate III in Electrotechnology
WorldSkills History:
Regional Competition 2011: Gold
National Competition 2012: Gold
About me:
At the end of year 12 I wasn't sure on what I really wanted to do, so I decided to sign up to the Central West Group Apprentices. I always knew I wanted to pursue a trade but I was unsure which career path I wanted to take. An opportunity came up for an electrical apprenticeship and it was then that I decided it would be a great opportunity for me.
In long term, I hope to progress more into the field of PLC's, automation and specialise in those areas.
What do you enjoy most about mechatronics?
I enjoy being able to use my hands all whilst learning new skills and techniques. I also get a thrill from being able to work with all of the different technology used in my industry.
How has WorldSkills helped me?
WorldSkills has opened my eyes up to all of the opportunities and different pathways that are available to me through my trade. I would highly recommend competing through WorldSkills Australia to anyone working in a skill or trade profession. Not only does it open up new and exciting doors in your career, it also provides an incredibly opportunity for personal and professional development.
Without WorldSkills I would not have been awarded the BBM Scholarship, which takes place later this year in the UK. I can't wait to get over there to work with some of the leaders in the automation and PLC field. I hope to take some of the skills and techniques I learn during my time abroad and utilize them back in Australia.
What type of work experience would you like to undertake in the UK?
I am hoping to work with someone in the field of automation and PLC's so I can expand my knowledge in these areas and develop and improve on my current skill set.
What I would like to get out of this work experience?
My goal is to gain a lot of new knowledge in the areas which I want to progress in. I also want to learn new skills from other people within my trade and compare the industries between the UK and Australia.