Todd Richards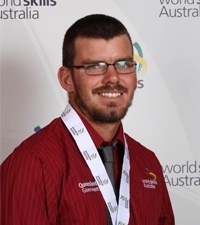 Training Institute: TAFE QLD – Central Queensland Institute, Rockhampton Campus
WorldSkills History:
Regional Competition 2011: Gold
National Competition 2012: Gold
 About me:
I got my first taste of bricklaying when I was quite young and would go with my friend who was always helping his dad on weekends and holidays. Back then, I never considered the industry for a career pathway but as I got older and started to really think about the kind of work I would enjoy, pursuing the bricklaying profession became much more appealing. I decided to ask my friends dad to take me on as his apprentice, he offered me the position and it turned out to be the best decision I have ever made.
In the short term I hope to continue to work hard and develop my skills and expertise in the area and see where this industry can lead me. Winning the WorldSkills Australia National Competition was something I never imagined possible and it also lead me to my current position in the BBM Skilled Futures Program. This whole experience has changed my life so much already and I am really looking forward to what the future has in store for me.
What do you enjoy most about bricklaying?
I really enjoy teaching other apprentices and then seeing how they develop throughout their apprenticeship. I also love being outside and in a different environment. My job can be difficult but it's also very rewarding, the satisfaction I feel when I see the finished result is always a bonus.
How has WorldSkills helped me?
I have always taken pride in my work and I always try to produce the best work I can. By competing in WorldSkills Competitions it has made me realise that my quality of work is not only worthy on a regional level but on a national level and that all the hard work and effort I put in from day to day is actually paying off, which is an incredibly rewarding feeling.
I would definitely recommend people to participate in WorldSkills Competitions; it can completely change your life, give you opportunities you never thought possible and take you places you never thought you would go.
What type of work experience would you like to undertake in the UK?
I'm interested in doing anything which is linked to my trade. I'm very keen to learn as much as I can therefore I don't want to limit myself to what I want to do. Some areas which I am extremely interested in are stone masonry and decorative brickwork, so I will use these as a starting point in my search for work experience.
What I would like to get out of this work experience?
I hope to gain new skills and techniques which I can use in the future to teach others. I'd also like to meet new people who are as passionate as I am about their job and who are willing to teach and show me new things which I may have never seen or done before.