Stephen Beelitz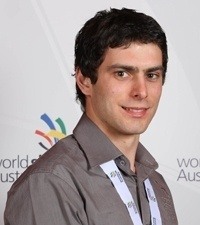 Training Institute: TAFE SA , Regency Campus
Formal Qualification: Diploma in Engineering (Mechanical Trade)
WorldSkills History:
Regional Competition 2011: Gold – Fitting & Silver – Turning
National Competition 2012: Gold – Fitting
About me:
After starting a Mechanical Engineering course at university, I decided that I needed to choose a career path that was more hands on and allowed me to work and live in areas outside of a major city.
I have always enjoyed working with my hands using either wood or metal. I decided to look for an apprenticeship as a fitter and turner, mainly for the opportunity and the challenge to work within small tolerances but also for the vast array of different work available and directions this career path could take me on.
In the near future I want to expand my skills into areas such as hydraulics and fabrication of new equipment which I haven't yet had much experience. I also want to spend more time improving my machining skills. Longer term, I can see myself in more of leadership or management role, then possibly running my own business.
What do you enjoy most about fitting?
I really enjoy machining and the satisfaction I get when something I have made fits perfectly together.  Also the feeling of fulfillment I get from solving a problem with a piece of machinery or discovering a fault is rewarding.
How has WorldSkills helped me?
WorldSkills has provided so many opportunities for me over the last 18 months. Since competing in the WorldSkills Regional and National competitions as well as taking on the challenge of learning the skills required, my confidence has improved immensely in my work and the areas in which I am competent.
WorldSkills provided me with the opportunity to travel to Sydney for the National Competition, which was a great experience. To be able to work precisely and under such pressure while still achieving high standards was a huge challenge and learning curve for me.
What type of work experience would you like to undertake in the UK?
I would like to pursue my career by practicing my skills in a work environment other than a winery. Although working in a similar work environment would be beneficial as it will provide a slightly different skill base and also the opportunity to see the industry from a different perspective. I'd like to expand my skills by working with hydraulics and completing more precision or machining work to help broaden and further my career opportunities.
What I would like to get out of this work experience?
I hope to expand on my current skill set, experience a different work environment and learn how similar businesses operate in a different part of the world. To undertake work experience in another country will provide me with new experiences which will help me to make informed decisions regarding my career path. I know that the skills I will gain whilst in the UK, will be fundamental assets to further my career.