James Ripa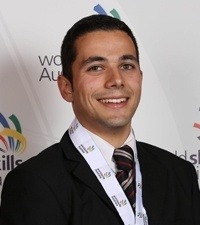 Training Institute: TAFE NSW- South Western Sydney Institute, Wetherill Park College
Formal Qualifications: Certificate III & IV in Automotive Heavy Vehicles (Road Transport) & Certificate IV in Frontline Management
WorldSkills History:
Regional Competition 2011: Gold
National Competition 2012: Gold
About me:
Throughout my life, I was always surrounded by machinery and I developed an interest in the industry very quickly. I started to pursue the trade by undertaking work experience whilst still at high school which really confirmed my enjoyment for the profession. Shortly after, I began my apprenticeship.
My short-term goal is to complete my course in Frontline Management at TAFE and to gain a position as a field service technician in my current workplace, Cummins Diesel South Pacific. Longer term, I hope to progress from my current position where I can train and teach other apprentices the knowledge I have gained throughout my years at TAFE and in the work field.
What I enjoy most about heavy vehicle mechanics?
I really enjoy the challenges I endure at work, being accurate as well as diagnosing engine faults is a big part of my trade,  to be able to repair these faults and then experience the rewarding feeling I get when I see the end result of my hard work is great.
How has WorldSkills helped me?
WorldSkills has opened so many new doors for me, both personally and professionally. I have learnt more effective decision making skills, how to manage my time to meet deadlines as well as communicating efficiently and effectively with others. I've also improved my ability to work in busy environments and under pressure.
All of the skills I have developed through WorldSkills have helped me to become a better tradesman and reach my full potential.  Without WorldSkills I would not have been awarded the BBM scholarship, which takes place later this year in the UK.
What type of work experience would you like to undertake in the UK?
I would like to undertake work experience in two areas of heavy vehicle mechanics, Marine and Industrial (high horsepower). I believe gaining knowledge in this area would be highly beneficial for me as I currently only work on mid-range horsepower engines and I would really like to expand my skill set. I've previously worked on a marine cruise ship and thoroughly enjoyed the experience and I would like to learn more.
What I would like to get out of this work experience?
I hope to expand my skills and knowledge in diagnosing and repairing engines, which I could then bring back to Australia. Mechanics in Australia is such a broad field, but because it is a specialised industry overseas, I will be able to gain a better understanding of each module of mechanics. I hope to learn from tradesmen who can provide me with different perspectives, experiences and methods of diagnosing and repairing faults.