Rhys Walsh-Tindall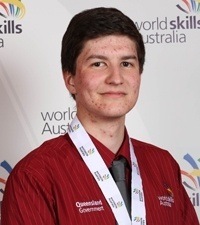 Training Institute: TAFE QLD – Sunshine Coast Institute, Mooloolaba Campus [External]
Formal Qualification: Certificate IV – IT (Networking)
WorldSkills History:
Regional Competition 2011: Gold
National Competition 2012: Gold
About me:
After completing high school in 2010, I took a short amount of time off to consider my options moving into the future. Since I had experience as a school based trainee during my time in year's 11 and 12 and following a suggestion from a regional field officer at The Apprenticeship Company in Chinchilla, I applied for a full-time traineeship with CS Energy at Kogan Creek Power Station.
After being offered a position, I have been working, learning and demonstrating my abilities within the IT industry ever since.
My long-term goal is to complete a university degree relevant to the IT industry, attain a position within the IT department in a large organisation and then eventually operate my own IT business.
What I enjoy most about PC & Network Support?
Waking up everyday is easier knowing there is a strong possibility of learning something new. I really enjoy learning new skills and knowledge and then utilising them to support and benefit the employees and business.
How has WorldSkills helped me?
WorldSkills has allowed me to demonstrate successfully the abilities and knowledge I have acquired within a high pressure environment, while working at CS Energy.
Since winning the 'PC & Network Support' category in the WorldSkills National Competition, the opportunities which have opened up to me are going to help me to realise both my short and long-term goals, which is incredibly exciting.
WorldSkills has driven me to continue working hard in my traineeship and to learn as much as I can in preparation for my overseas journey to the UK through the BBM Skilled Futures Program.
What type of work experience would you like to undertake in the UK?
My goal is to be able to work in a medium to large business, and to maintain and expand upon my current skill set. During my work experience, I would be interested in working in a helpdesk role (local or remote) to provide helpdesk support, perform asset management functions, statistical data analysis and reporting; as well as to create and develop system processes and procedures.
By performing tasks such as these within a work experience role, I intend to gain perspectives on the different IT practices between businesses on a global scale.
What I would like to get out of this work experience?
Having also received a scholarship from the Queensland Overseas Foundation for 2013, my aim is to move from a work experience role into a full-time position to allow me to stay in the UK for up to another 12-18 months. By experiencing and interacting with the business' systems and employees in a minor placement role for a short period of time, it could be easier for me to move into a new role where my skills could be further utilised to benefit the business.