Joshua Kleinig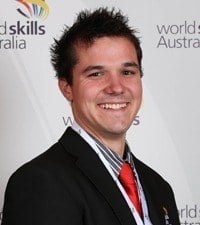 Training Institute: TAFE NSW – Western Institute, Dubbo Campus
Formal Qualification:  Certificate III Electrotechnology
WorldSkills History:
Regional Competition 2011:
National Competition 2012: Gold
About me:
For as long as I can remember I've always been curious about electricity. When I was young I had a Dick Smith Electronics Kit, which is where the interest really started to develop.
I loved playing with anything electrical, and seeing how it would work. I'd pull things apart to see what was inside and I'd attempt to figure out how they worked. In year 11 I enrolled in a VET course in Electrotechnology where my passion for the industry only continued to develop. Three years after I left school, I decided to apply for a job with a family friend at Weiley Electrical, I am still with the company to this day.
My short-term goal is to complete my TAFE certificate and gain new skills whilst undertaking the BBM Skilled Futures Program in the UK. Within the next 10 years I hope to start my own business which will focus on industrial systems.
What I enjoy most about mechatronics?
I enjoy everything about my job, especially the experience I gain from working in different environments everyday and no two jobs being the same. My favourite part would definitely be when I finish the job at hand and I can proudly say, "I did that, I made it work."
How has WorldSkills helped me?
WorldSkills has helped me so much professionally, it has given me a lot more confidence in my work and I now find that I approach jobs in a more efficient and effective way. Personally, WorldSkills has given me the opportunity to test my abilities and also meet so many people from other walks of life.
What type of work experience would you like to undertake in the UK?
I would like to undertake work experience in industrial control, automation and programming in the manufacturing and processing industries. I hope to expand on my current skills as most of my experience is in industrial and commercial installations and service.
What I would like to get out of this work experience?
I hope to gain an in-depth understanding on how to program circuits, develop larger installations, and expand my limited experience and knowledge on breakdown services. The new skills I gain will be invaluable, and to then bring them back to Australia to share with others will be a great achievement.