Jarred Denning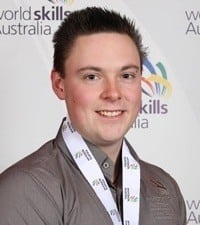 Training Institute: TAFE SA, Gilles Plains
Formal Qualification: Certificate III in Wall and Ceiling Lining
WorldSkills History:
Regional Competition 2009: Silver
National Competition 2010: 4th
Regional Competition 2011: Gold
National Competition 2012: Gold
About me:
Growing up I always wanted to get into the building trade and I gained my first experience working at a brickyard stacking bricks. At the time I was eager to obtain an apprenticeship and managed to stumble across a job advertisement in the local messenger about a laboring job and possibly an apprenticeship.
I contacted the employer and he invited me to go for a trail the following day but I wasn't guaranteed the position because 10 other people were being trailed as well. As it turned out, I was apparently the 'best of the bunch' and was subsequently offered the apprenticeship.
In the long term, I would like to start my own business and have my own employees, or become a sales representative for one of the big gyprock companies in Australia.
What I enjoy most about plastering?
I enjoy mostly everything in my trade, what I love most about it though is that my job is one of the finishing trades where I get to see the final result.  I really enjoy the challenges I face at work, especially when I get to work on houses with curved bulkheads, weird angles and perforated ceilings, to be able to stand back and see the work I've done gives me great satisfaction.
How has WorldSkills helped me?
WorldSkills has given me so much more confidence in my trade and a lot more respect from fellow work colleagues. To be able to meet new people, work under pressure in front of spectators, judges and teammates all whilst travelling with a group of great people from all different trades, is a great experience, it would have to be the best opportunity I have ever been given.
What type of work experience would you like to undertake in the UK?
I would like to undertake experience in all aspects of my trade because they have different standards and specifications in the UK. I'm hoping to undertake some experience in their jumbo petition walls that can reach up to 20 meters in height as well as gain more skills in flushing/setting. I am also highly interested in working with tradesmen overseas and seeing how they compare to us in Australia, it will be a great way to benchmark standards and skills.
What I would you like to get out of this work experience?
I hope to learn new skills, and tips which will help me perform my day to day work more efficiently. I also hope to improve my skills and quality of workmanship with the experience I gain and to bring back any new aspects of my trade that I haven't seen in my work place.