Matthew Papandrea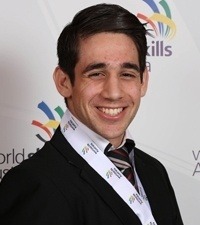 Training Institute: TAFE NSW – Southern Western Sydney Institute, Granville College
Formal Qualification: Certificate III in Meat Retailing
WorldSkills History:
Regional Competition 2011: Gold
National Competition 2012: Gold
About me:
Ever since I can remember I have always been in and around the meat industry, my family owns a meat retailing store in Bossley Park and now Wetherill Park. As a child I use to help wash up at the end of the day and slowly worked my way up to become a butcher in the store. Since then I have developed a passion for the meat industry as well as food in general.
My short-term goals are to complete my university degree in Business Management and to continue to learn as much as I can about meat and food. Longer term, I want to open up my own meat-retailing outlet that will be different to the average meat-retailing store.
What I enjoy most about meat retailing?
What I enjoy most about my job is creating a roast, cutting what I call "man size" steaks and learning about different cultural dishes. For me, making a roast is enjoyable as it implements a few skills to make it picture perfect. To be able to create something that you haven't made before is exciting, because it changes the usual day-to-day activity.
Culture is a big part of our industry and is also extremely important to me; I enjoy learning how different cultures use meat to create different dishes. This allows me to learn more about what different cuts of meat can be used and allows me to continue to develop in my industry.
How has WorldSkills helped me?
WorldSkills has helped me both personally and professional in my industry.  Personally, the WorldSkills competitions allowed me to express my ideas with meat and refine my work place practices.
The competition challenged me to think outside the box and express skills that sometimes even surprised me. The pressure and quality of the competition helped refine my workplace techniques and encouraged me to develop the skills to complete tasks effectively and efficiently.
What type of work experience would you like to undertake in the UK?
I would like to undertake work experience with meat retailers who implement cooking, curing and meat demonstrations in their store, as I believe that cooking inside a store is going to be the future of the trade. I also would love to learn more about cured and smoked products as I don't have much experience in that field.
Hosting meat demonstrations has always been a personal ambition of mine. I would love to be able to educate people on how they should cook the meat to get the best result and I believe this consumer education is going to be increasingly popular in Australia in the future. This is why I hope to experience this during my work placement in the UK.
What I would like to get out of this work experience?
I really hope to bring back to Australia something different and something that we haven't seen before. I would like to learn about different products, methods and arrangements of meat retailing stores. Also as part of the work experience, I would like to learn about new products from the UK, new ideas and different methods on how to complete tasks more efficiently.