Genevieve Hutty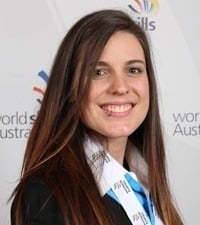 Training Institute: TAFE NSW – Illawarra Institute, Wollongong West Campus
Formal Qualification: Diploma in Applied Fashion Design & Technology
WorldSkills History:
Regional Competition 2011: Gold
National Competition 2012: Silver 
About me:
Fashion and garment design has always been my main hobby and from a very young age I knew that I wanted to pursue it in the future. After I studied textiles and design throughout high school, I moved to Wollongong to complete a diploma in Fashion Design & Technology. I am currently working for a local designer who was also my teacher at TAFE.
In the short term I want to gain as much experience as possible working with a designer as well as within a design/production team where I can see what happens first hand in the industry. Longer term I hope to start a business of my own where I can work one on one with clients from a design studio at home. Teaching has also been another passion of mine; I would love to become a teacher in Textiles and Design and one day mentor a WorldSkills Fashion Technology competitor.
What I enjoy most about fashion technology?
There is never a lack of variety in this industry, which enables me to be really creative in my work. There is always something new to learn with garment construction particularly because everybody you work with uses different processes and methods. This allows me to continue improving and broadening my skills. To be able to have the ability to visualize a final product, and then for it be created just as you envisioned it is a fantastic feeling.
How has WorldSkills helped me?
WorldSkills has taught me how to complete a job accurately and efficiently in a time pressured situation. I've also learnt many new techniques and skills from the training which I would not have learnt anywhere else in such a short period of time.
I would absolutely recommend WorldSkills to others; it has opened so many doors for me. I'd encourage anybody passionate about their trade to compete. To be given the chance to learn new skills and to benchmark your work quality against others in your industry will only benefit you as well as give you the confidence to fulfill your potential.
What type of work experience would you like to undertake in the UK?
I am hoping to undertake some work experience with a production team, to learn their machinery, work with their fabrics and patterns and to view their design and client rooms.  I am also very interested in gaining some experience with bridal design, children's, women's wear, lingerie and swimwear. I hope to be able to get a taste of many different areas within the industry which I believe will assist in defining the future direction I would like to pursue in my career.
What I would like to get out of this work experience?
I would like to the gain skills that I may not have learned in Australia, it will be a great opportunity to see how the industry operates in another country.