Aaron Samphier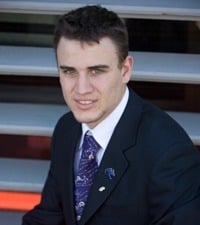 How did you get into the industry?
I have always liked working on cars and started restoring a Holden Gemini Coupe from scratch. I contacted a local smash repairer to ask questions on spray painting. I started working with this company on weekends while I was still at school and was offered an apprenticeship. I am now employed by AAA Malibu Paint & Panel as a third year and I enjoy working there every day where my skills are rapidly improving.
Would you recommend a trade/skill based career to others?
Yes most definitely! A trade will set you for life, and you have the opportunity of owning your own business one day.
How has WorldSkills Australia helped you so far personally & professionally?
WorldSkills has given me confidence in myself personally and professionally. I feel proud that I have achieved so much and that I have been classed as one of the best in my field. In the workplace my employers are extremely proud and they know that they can rely on me and that I will always produce the best work.
Would you recommend others participate in the WorldSkills Competitions?
Yes, it is a valuable experience to represent your region, country and employer and to do the best you can in the industry you work in everyday. No matter what the outcome is, you%27re giving yourself a challenge to be participating in such a competition with others in the same field.
What do you enjoy most about your job?
I enjoy working with the best people in the industry and working on cars that require repairs and seeing work in progress. Seeing the finished product makes me feel good and the smiles from the customers when they come in to pick up their vehicles is the best.
What do you hope to achieve in both short and long terms of your career?
I want to achieve great satisfaction in what I do. I want customers to feel comfortable in leaving their vehicle with me and have confidence that the job will get done and done properly. I want to achieve and learn everything I can, asking questions and getting advice from others who have been in the industry for many years. I hope to work my way up in the company and hopefully one day start up my own business passing on my skills to others.
Expert
Tom

Vukelic

Tom is a Head Teacher at South Western Sydney Institute of TAFE. Tom has been involved with WorldSkills Australia since the late 1980%27s and has recently designed projects for Regional and National Competitions and at the International Competitions in Helsinki in 2005 and Shizuoka in 2007. Tom believes a vocational qualification provides a sound foundation for employment and a %22spring board%22 for future career opportunities. His advice to Aaron and other Skillaroos is to have 'sound preparation, leave nothing to chance and the harder you work the luckier you get.%27